Urban gardening in Outlaying Areas at Las Tunas province
Submitted by: admin

12 / 14 / 2009
---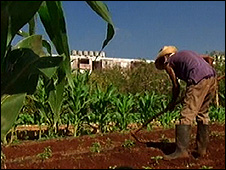 One of the advantages pursued by the new sub-urban agriculture program is to bring production close to urban settlements and save important fuels and transportation means.
The upcoming implementation in eastern Las Tunas province of a project that expands urban gardening to outlaying city areas is expected to significantly increase food production.
Known as Sub-urban Agriculture, the new project is to be implemented next January in a group of local farms whose extension covers 70 percent of the total area that will be dedicated to the program in the capital district of the province, which is one of the municipalities chosen to boost the initiative, said the president of the National Small Farmer Federation in Las Tunas, Mario Menendez.
The massive joining by local farmers of the new project will reinforce their prominent role in all eight municipalities of the eastern province, given the fact that they provide 74 percent of the total fresh milk production and over 60 percent of all produce collected by the state.
Henry Santiago is a worker at the local Calixto Sarduy cooperative farm in the municipality of Las Tunas. He proudly spoke with the Cuban News  news agency about the diversification efforts taking place in his farm.
Santiago said that in order to diversify his production he has planted two hectares of land with vegetables and fruits like banana, pepper, cucumber, beet, tomato, onion, pepper, horseradish and garlic.
Source: ACNNews
---
Related News
---