Polo Montañez Group sang for all at the Movie Festival
Submitted by: admin

12 / 14 / 2009
---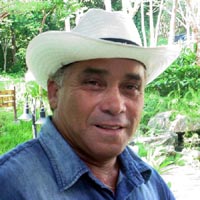 Sing again is the title of the documentary on Polo Montañez, by the group of audio-visual creation Producciones Villaverde, which competed in the 31st International New Latin American Movie Festival.
Made by José Manuel Fernández, Canta otra vez (Sing once again) competed in the Hecho en Cuba (Made in Cuba) section and with a duration of 26 minutes, photography is made by Julio Fonseca and the edition belongs to Alejandro Néstor Aguilar, reported the department of Cuban Communication in the Province of Pinar del Río.
The short-movie makes a tour around the fruitful musical creation of Fernando Borrego Linares, who was self-taught and who managed to internationalize the rhythm of the parties or festivities of the classical country night in their birth city of Sierra del Rosario, the mountains to the north-east of Pinar del Río.
In the documentary there are important personalities of music industry in the country such as Olavo Alén and Doctor María Teresa Linares offer an analysis of the work of the so called Guajiro Natural, with opinions also by Eduardo Rosillo, professor of phrasing in Cuba and an expert scholar of music in the country.
The festival of the seventh art has been held in Cuba since December 1979 where personalities such as Robert Redford, Francis Ford Coppola, Harry Belafonte, Geraldine Chaplin and Pedro Almodóvar, among other actors and directors have taken active
part.
Source: Cubarte
---
Related News
---