President Raul Castro's addressee at ALBA Summit in Havana
Submitted by: admin

12 / 14 / 2009
---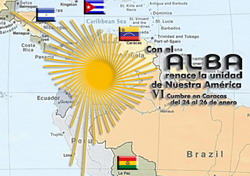 Raul inaugurated the 8th Summit of the Bolivarian Alliance for the Americas (ALBA) at Havana's Convention Centre, and conveyed greetings to the participating heads of state and heads of delegations from Revolution leader Fidel Castro.
Cuban President Raul Castro pointed out on Sunday that ALBA member nations are forced to consider daring goals and objectives, with a realistic understanding of the circumstances, obstacles and hazards presented by today's international situation.
The agenda we have set out to work on, he said, gives us the possibility of analyzing, more than the successes and results of ALBA over the last five years, the way to deepen into development, improvement and impact of our Alliance.
United, we'll be in a better condition to face the general economic crisis, by taking
advantage of the potential offered by the ALBA market from member nations and by making an efficient use of our economies by complementing each other, in order to access third markets, pointed out Raul.
The Cuban head of state warned that the times we're living in reflect that the clash between two historical forces is intensifying in Latin America and the Caribbean.
"On the one hand, the dependent, elitist and exploitative political and economic model, the heir of colonialism and neo-colonialism, subordinate to the interests of the empire; on the other, the advance of revolutionary and progressive political forces representing the classes that are traditionally dispossessed and discriminated against."
In essence, considered the Cuban president, we're talking about the historical struggle to concrete the fulfilment of the vision Marti and Bolivar had of The Americas.
He underlined that the Honduran people has been deprived of its constitutional rights and that with the support of the US administration, a government that is an usurper, has staged a coup and has tried to legitimize itself with an electoral farce, has been imposed on it.
He announced the control of the mass media and the failure of the negotiations that will conclude in Copenhagen over the next few days with concrete, real and verifiable commitments to face the effects of climate change as other issues to be analyzed
during the 8th ALBA Summit.
Raul recalled that the 8th Summit coincides with the 15th anniversary of the first visit to Cuba of Bolivarian Revolution leader Hugo Chavez and with the 5th anniversary of the Joint Declaration between Venezuela and Cuba, signed in 2004 by Hugo Chavez and Fidel Castro and that marked the birth of ALBA.
He also recalled that the Constituent Treaty of the Unitary System of Regional
Compensation (SUCRE), a financial mechanism that will be in force as of 2010 to promote trade by way of the compensation of payments without using the US dollar and by means of a sole currency unit called SUCRE, was signed during the previous
Summit, held in Cochabamba, Bolivia.
Fuente: ACNnews
---
Related News
---