Cuban Parliament to discuss Budget Implementation throughout 2009
Submitted by: admin

12 / 13 / 2009
---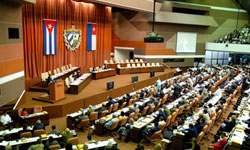 Members of the Cuban parliament will receive detailed information on the
implementation of the 2009 budget and the proposals for 2010, among other aspects, prior to the fourth ordinary period of sessions of the 7th Legislature of the Cuban National Assembly (Parliament) scheduled for December 19th.
The 12 permanent working commissions of Parliament will meet on December 16-17 at Havana's Convention Centre to, along with representatives from the Ministry of Economy and Planning, and the Ministry of Finance and Prices, analyze these economic
themes and perspectives.
Thus, the legislators will learn first hand the state of the Cuban economy after a very complex year that has been full of difficulties, not only for the US's economic blockade of the island, but also due to the current world crisis, among other reasons. These factors forced the country to readjust plans and put emphasis on efficiency, saving, organization and discipline.
All the commissions will analyze the work done in 2009 and agreements adopted in the period, Parliament sources told ACN adding that, in particular, the commissions of National Defence, Legal and Constitutional Affairs, and Attention to Services,
will discuss a bill on a Code of Highway Administration and Traffic that was already analyzed all over the country by delegates, specialists and State officials.
Source: ACN
---
Related News
---