Van Van celebrates its 40 anniversary
Submitted by: admin

12 / 12 / 2009
---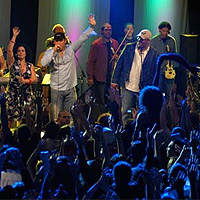 The widely known Cuban orchestra, Van Van is already celebrating and it did so during a concert offered last Wednesday at the Kart Marx theatre in Havana City.  
Nearly five thousand people applauded and danced with the unmistakable rhythm of one of the most important groups of the world, said maestro José Luis Cortés (El tosco), one of the guests who was on the stage.
El Tosco, who was a founder of Van Van, added that it is impossible to talk about the Cuban popular music, without mentioning Juan Formell.  
The two hours presentation, counted with the presence of  Omara Portuondo and the also founders of the orchestra Ángel Bonne, César Pedroso (Pupy) and Pedrito Calvo.
Será, Arrasando, Tal vez, El negro no tiene na and El que baila gana were some of the themes enjoyed by the public, as well as a film material that reviewed the history of Van Van, a group founded on  December 4th 1969.
Juan Formell, thanked the presence of so many people and the preference of the people for the music cultivated by the orchestra and repeated that it is the dancer the main destination of everything they do.
As they did in the Peace without Borders concert, they closed the night with the Compay Segundo Chan Chan and included improvisations by Formell, Mayito, Robertón, el Lele and Jenny, the main voices of the group, as well as Omara Portuondo, Ángel Bonne and Cucú Diamantes.
The most important Cuban salsa orchestra will offer 70 concerts in the USA, starting next year.  
As it was recently announced by Formell, after the exhibition of a documentary about the 40 years of the existence of the band, the tour is planned in three stages from 2010 and could end in 2011.
One or two of the presentations will be held in the southern Florida city of Miami, where an important Cuban community lives and where the orchestra offered ten years ago a concert, surrounded by a strong political controversy.
Source: ACN and Cubarte
---
Related News
---