Rumba and Conga Charanguera in Bejucal, Havana
Submitted by: admin

12 / 12 / 2009
---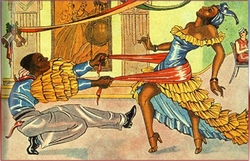 The 10th Workshop of the Rumba and the Conga Charanguera, Cubache 2009, will be held in this Havana town, with the presence of the important specialists and exponents of these genres.
The event is sponsored by the Union of Cuban Writers and Artists (UNEAC; Spanish acronym) in the province of Havana and has among its presidents of honour a José Luís Quintana (Changuito), Salvador González, Eloy Machado (El Ambia), Gregorio Hernández (Goyo) and Lino A. Neira PhD.
The activities start with a theoretical meeting with the municipality choir of Bejucal, which also includes conferences by Cary Diez, executive of UNEAC and the engineer Enríquez Zayas, a folk specialist and a debate table about the complex of rumba.
The workshop ends with the Peña de la Rumba y la Conga Charanguera with the participation of Alfonso Iyáe and his group Cubaché, Goyo and his group, Rumba Habana, Rumba Morena, and Tambores de Bejucal.
Sunday afternoon, the 10th Festival of the Conga, with the participation of several groups of this municipality, as well as from Quivicán, Santiago de las Vegas, Mariel and Guanajay is foreseen.  
Source: ACN and Cubarte
---
Related News
---