Documentary on Fidel Castro's inner world released
Submitted by: admin

12 / 10 / 2009
---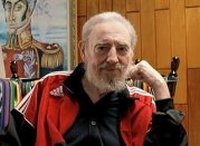 Different personalities have just told their experiences when they met president Fidel Castro and could find his preferences about food, sports and cooking.
An international cast of luminaries who traveled to Cuba and met with Fidel Castro, as well as top members of his government and military, talk about their experiences with the man who ruled the island for 49 years in U.S. documentarian Estela Bravo's "Anecdotas Sobre Fidel," or "Fidel Anecdotes."
"You really see Fidel the man, a little more of who he is," Bravo said Thursday at a screening of her new 46-minute movie, part of Havana's annual film festival.
A longtime island resident married to a Cuban, Bravo made the 91-minute-long, sympathetic documentary "Fidel: The Untold Story" in 2001. For that film, she interviewed Hollywood stars, American authors and political leaders who had met Castro, as well as Cuban government and military leaders and those who knew Castro as a child.
Bravo used leftover, unedited material from those interviews between 1996 and 2000 to produce her latest documentary. She said she had long believed footage left on the cutting room floor was worth releasing and felt compelled to make the film now, since Havana's humid and salty air was destroying her recorded material.
Civil rights leader Jackson visited Cuba in 1994. He and Castro visited a school so Castro could show off Cuba's education system. Jackson asked if, to return the favor, Castro would accompany him to a Cuban church service.
"He said, 'I haven't been to church in 27 years,'" Jackson says, recalling the shocked faces of the Cuban priests when the pair appeared the following day.
Garcia Marquez, a Castro confidant and frequent visitor even after a 2006 health crisis forced him to disappear from public view and cede the presidency to his brother Raul, tells of Castro complaining about never having time to read anything but
government reports.
On a subsequent visit, the Nobel Prize-winning author says he decided to bring his friend what he called "best-sellers," the first of which was Bram Stoker's "Dracula." The following day, Castro showed up bleary-eyed, saying "that book won't let me
sleep."
The film features footage of a visit to Cuba by Aaron, who asks Castro if he was a better baseball or basketball player growing up. Basketball, Castro replies, adding, "At least I thought I was good."
Aaron then says in an interview with Bravo that he still cherishes four baseballs Castro autographed for him.
"Once in a lifetime you can get someone like President Fidel Castro to sign a baseball for you," he says.
A small group of ordinary Cubans lined up in front of a gracefully decaying 1950s Havana movie house for the screening — though most of those in attendance were Ministry of Interior officials or other VIPs, including Alberto Granados, an Argentine who accompanied revolutionary Ernesto "Che" Guevara on his 1950s tour through South America that inspired the film "The Motorcycle Diaries."
In one of Bravo's interviews, famed U.S. novelist and frequent Cuba visitor Alice Walker says Castro "maintains his child's mind and that is very wonderful."
Castro told 1960s radical-turned academic Angela Davis that he got nervous before making his interminable speeches, something she says has helped her overcome stage freight.
"He's a big star," says late filmmaker and actor Sydney Pollack. "Whether he's a villain or not, he's still a star."
Castro's co-star in the documentary is food: Cubans and visitors alike discuss his passion for cooking and his overbearing presence in the kitchen.
Garcia Marquez tells how his wife smuggled "contraband," including meats and other ingredients prohibited for importation into Cuba, so that Castro could make baklava on an island plagued by frequent food shortages.
American singer and civil rights activist Harry Belafonte tells of bringing a large block of cheese to Castro — a gift that caused a stir because security agents hadn't ensured it wasn't poisoned.
"He took a tiny bite," Belafonte says. "Then he ate more and more."
Source: yahoo.com/
---
Related News
---