The Cuban Five Are Innocent, said Ricardo Alarcón
Submitted by: admin

12 / 09 / 2009
---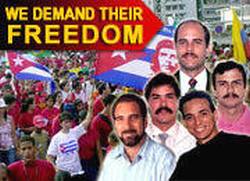 The President of the Cuban Parliament, Ricardo Alarcon, reiterated on Wednesday that the five Cuban antiterrorist fighters who remain unjustly imprisoned in the United States since 1998 are innocent and should be released.     
Alarcon participated on Tuesday in the radio and TV program 'The Round Table', which analyzed the re-sentencing yesterday of Ramon Labañino and Fernando Gonzalez, two of the Cuban Five - as Gerardo Hernadez, Rene Gonzalez, Antonio Guerrero, Ramon and Fernando are internationally known.  
The top Cuban legislator explained that Judge Joan Lenard agreed to reduce Ramon's sentence from a life term plus 18 years to 30 years while Fernando's sentence was reduced from 19 years to 17 years plus nine months.  
However, Alarcon stressed, "these sentences are still unfair because they should have never been imprisoned for a single second." He also recalled that in 2008 the 11th Circuit Court of Appeals in Atlanta made an unjust decision by ratifying the guilty verdict against the Five but it also recognized that the sentences were wrongly imposed.
On October 13th, this court also re-sentenced Antonio Guerrero to 21 years plus 10 months in prison, thus replacing his life term plus ten years, which was previously and unfairly given in 2001.  
Alarcon announced that following the Court's verdict, a declaration was presented to attending media outlets on behalf of Ramon Labañino, Fernando Gonzalez and Antonio Guerrero, which affirms the political nature of their case. They expressed
their support of their compatriot Gerardo Hernandez, who is serving two life terms plus 15 years as "he has arbitrarily been excluded from the re-sentencing process."
Source: ACN
---
Related News
---