Coppola's film "Tetro" in Havana
Submitted by: admin

12 / 08 / 2009
---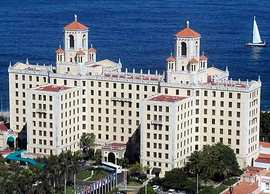 The movie, filmed in black and white, recounts the story of two brothers separated from each other for years, who meet up again in Buenos Aires in order to face up to a secret that will change their relationship for ever.
Francis Ford Coppola, who has previously attended the Havana Festival, has now sent his film Tetro, filmed in Argentina, considered a new journey by the director of The Godfather on his habitual theme of the family as a reduced version of society
with all its conflicts and reconciliations.
The cast is impressive: Vincent Gallo, debut actor Alden Ehrenreich, Spaniards Maribel Verdú and Carmen Maura, Austrian Klaus Maria Brandauer and Argentines Rodrigo de la Serna, Leticia Brédice and Mike Amigorena.
It should be said that when Tetro was shown in Cannes, the public who filled the theater liked it but it didn't convince all the critics, who pointed to a script that went off into incidentals, reaching 2:07 hours, uneven acting and certain totally gratuitous choreographed landscapes.
It would seem that the most convincing of all the actors is Spaniard Maribel Verdú, who knows how to reach out to spectators in her painful figure of the sacrificed lover of the central character, Tetro, acted by Vincent Gallo.
Coppola, of The Godfather trilogy and Dracula, recently celebrated his 70th birthday and his career includes as many successes as failures. Tetro is his first film based on an original story since The Conversation, which won him his first Palme d'Or in Cannes; the second was Apocalypse Now 30 years ago.
There is more on Dracula. The festival is to offer a special showing of George Melford's Dracula, the Latinized version of the movie filmed in 1931 by Tod Browning, with Bela Lugosi in the lead role.
Alfredo Guevara explained that this version was discovered in the vaults of the Cinemateca de Cuba and that he considered it better than the original.
He announced that the world premiere of the soundtrack score of the Latino Dracula, is to be performed live by its composer, guitarist Gary Lucas.
Many eyes are watching cinema in Havana. The films in competition, those outside of competition, Latin American and contemporary panoramas and the tributes (this year exclusively for the 50th anniversary of ICAIC. What is the secret that allows them to see so many? •
Source: Cubarte
---
Related News
---