ANIMA Studios Open in Holguin
Submitted by: admin

12 / 06 / 2009
---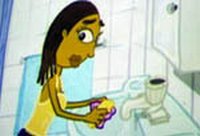 The "ANIMA" studios for the production of cartoons, located in the "Plaza de la Marqueta", in the eastern province of Holguin has become the workplace for students of the arts, art instructors, computer specialists and other self-taught students.
The director of the Studios, Adrian Lopez, started the project in 2005 with the production of promotional samples based on American, European, Japanese, and some Latin American cartoons.
At that time, the project was presented to the Ministry of Culture during the Low-Budget Film Festival in the city of Gibara, which gave its support, as well as the Directorate of the ICAIC Animation Studios and the political leadership in the province.
Since then the science fiction cartoon series "Civilization," based on Mesoamerican mythology and the idea of a tribute to José Martí, from his play "Abdala" have been made. Character sketches, artefacts, weapons and clothing, and the city of
Aztlan, inspired by the urban Mayans, Aztecs and Incas, and the mythical Atlantis, appear on screen in this long-term project.
The studios are equipped with a room with makeshift animation tables, several computers, cinema seating and a screen for showing films.
The Holguin Studios are sponsored by the ICAIC Animation Studios, in Havana, and provide services to cultural institutions in the field of animation and digital recording for communications, as well as documentaries, films for children, co-production
and consultancy.
They have an agreement with the Holguin Music Center for the recovery of historical memory of traditional music of the area.
Upcoming productions will be devoted to composer Edelys Loyola, Alfredo Morales (Chiquitin), the humorist group Jokers, and for promotional work in communities, cartoon screening and storytellers.
Source: RHC and Cubarte
---
Related News
---