Pandemic threat A (H1N1) influenza under control
Submitted by: admin

12 / 05 / 2009
---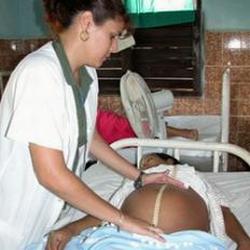 Immunosuppression, an intrinsic feature during pregnancy and puerperium, is one of the essential indexes  to take into account when dealing with this segment of the population, at greater risk from A (H1N1) influenza.
This criterion was made during an encounter with doctor Izaida Montero López, official of the direction of the Mother and Child Care Program (PAMI) in the province of Camagüey, central Cuba.
Montero recalled that the abrupt fall of the immune response of the organism is one of the biggest impacts during pregnancy, as well as during puerperium, span of time from childbirth until the woman's body returns to its normal physical state.
Among the dangers of such a situation, it is worth mentioning the respiratory afflictions and, logically, complications derived from 2009 influenza A (H1N1) infection, in an immunosuppressed organism.
The doctor continued saying the new (H1N1), is still being studied, and although a series of results are still missing, there's no doubt about the dangerous situation caused by the aforementioned circumstances.
As regards to the current season of the year, characterized by continuous changes in temperature, Montero recalled the normal increase of acute respiratory illnesses, and highlighted that the moment is also suitable for a greater impact of the outbreak.
More than 800 pregnant women are staying at the hospital for having shown respiratory symptoms, but none of them have died.
Source: AIN/Radio Cadena Agramonte
---
Related News
---