Music in a friendlier overture between Havana and Washington
Submitted by: admin

12 / 05 / 2009
---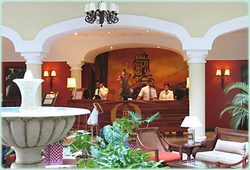 Well-known Cuban musicians are being granted visas to perform at U.S. venues in a sign that Obama's administration is quietly promoting cultural contacts as part of a strategy of warmer "people to people" ties with the Communist-run island.

Cuban musicians are returning to perform in the United States after a long freeze on such visits, seizing the opportunity of friendlier overtures toward Havana from U.S. President Barack Obama.

The more relaxed atmosphere between the Cold War era enemies is perhaps most evident in the arts, which in the past has provided a bridge between the two neighbors which have not had formal diplomatic ties for close to half a century.

Omara Portuondo, the 79-year-old diva of the legendary Buena Vista Social Club group, was invited to help host the Latin Grammy awards last month in Las Vegas, a ceremony off-limits for Cuban artists during the hardline relationship that marked
the Bush administration years.

After taking office in January, Obama promised to "recast" U.S.-Cuban ties and softened some sanctions, although the 47-year U.S. trade embargo remains in place and Cuba is still on a U.S. list of "state sponsors of terrorism."

Obama's easing included lifting restrictions on family visits by Cuban Americans to the island, and has now been followed by a string of U.S. visas for cultural exchanges.

Portuondo's visit was soon followed by one by the Septeto Nacional, another legend of Cuban 'son' rhythm that has just returned from touring New York, Los Angeles, Chicago and even Miami, a stronghold of die-hard Cuban exiles that in the past
has often been hostile to such appearances.

Another well-known Cuban singer-songwriter, Carlos Varela, is currently on a three-week U.S. visit.

Varela, whose songs have captured the disenchantment of many young Cubans, met a White House official for lunch at a Washington restaurant, according to the organizers of his trip, He also met two members of Congress.

"Everywhere we played it was packed. The main newspapers in the U.S. wrote about our work. The atmosphere was very positive, even in Miami," Ricardo Oropesa, manager of Septeto Nacional, told Reuters.

While still far apart ideologically, the U.S.-Cuban relationship seems to have warmed enough for Los Van Van, Cuba's most famous salsa band ever, to be planning a 70-stop tour in the United States next year.

David Calzado and his Charanga Habanera, another big name in Cuba's salsa scene, is getting ready for a year end concert in Miami.

Despite a general U.S. ban on travel by Americans to Cuba, except with special licenses, there are signs too of U.S. bands putting Havana on their schedules. Rhythm and blues band Kool & The Gang will play concerts in Cuba on December 19-22 and
their publicist, David Brokaw, said they had permission for the trip.
"QUIET OPENING"
Dan Erikson, a Cuba expert with the Inter-American Dialogue in Washington, calls this a "quiet opening" in culture.
"Although it is still too early to tell whether this amounts to a significant shift in policy, it indicates that the U.S. and Cuba are continuing to reduce bilateral tensions in subtle but important ways," he said.
With more than 44 million Hispanics, the United States is the biggest market for Latin music. Appetite for Cuban rhythms was already evident in Buena Vista Social Club's past success in the United States in selling over 1.5 million CDs there.
Plans to have Cuban artists such as Portuondo and folk singers Silvio Rodriguez or Pablo Milanes play in the United States were drafted as soon as Obama emerged as a presidential candidate.
Yet booking a Cuban artist remains a complicated task, says San Francisco-based promoter Bill Martinez, who organized the recent tour by Septeto Nacional.
"It is difficult to book Cuban groups because of the lack of confidence from the venues, cultural centers and potential collaborating presenters. They don't believe the visas will be issued and this makes it very difficult to get commitments or
confirm logistics," he said.
State Department officials have to be begged for visas and under U.S. regulations Cuban artists are entitled to receive only transport, lodging and a per diem but not performance payments as they would anywhere else.
"U.S. policy continues to make this brief 'breakthrough' a rather ephemeral, shallow victory of sorts," said Martinez.
'MIAMI HAS CHANGED'
Cuban musicians previously toured the United States during times of detente such as under Bill Clinton's administration in the 1990s, but stopped after George W. Bush took over in 2001.
After winning a Grammy in 1999, Los Van Van had to watch the ceremony on TV the following four years they were nominated for awards because Washington didn't grant them visas. All five nominees for the Best Traditional Tropical Album in 2004 were Cuban and none of them were allowed to attend the ceremony in Los Angeles.
American producer Ry Cooder, the man behind the world success of Buena Vista Social Club, was even fined by the U.S. Treasury Department for traveling to Cuba without a license.
The real test for the new wave of cultural diplomacy will be Miami, center of a 1.5 million-strong Cuban exile community that has not always welcomed musicians from the island.
A performance by Los Van Van in Miami in 1999 required protection from SWAT teams.
But recent opinion polls suggest many exiles are warming to closer people-to-people contacts across the Florida Straits.
After initial opposition, many exiles ended up applauding a September "Peace without Borders" concert staged by Colombian singer Juanes in Havana's Revolution Square.
"Miami has changed a lot in the last 10 years," said Juan Formell, Los Van Van's leader, announcing the U.S. tour.
Source: news.yahoo.com
---
Related News
---