American Choir SANS visiting Cuba
Submitted by: admin

12 / 04 / 2009
---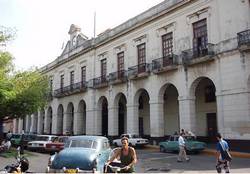 The American Choir SANS, visiting Cuba for the third time, held an exchange and friendly meeting with the Chamber Choir of Matanzas in the cultural community center Abraham Lincoln of this city.
Musical Director of the American choir Diane Winchester spoke with ACN and highlighted the quality and professionalism of this Cuban cultural institution.
SANS' President Lee Harrison said the purpose of the choir's visit to Cuba is to exchange with Cuban vocal groups and promote understanding through culture and friendship among artists.
SANS Choir, whose name stands for Sharing a New Song, was founded in the 1980's. Its repertoire, according to Winchester, is very varied. It includes American traditional music like negro spirituals and jazz, and songs from the countries they have visited like Brazil, South Africa, Russia and Cuba.
Matanzas's Chamber Choir made a special performance for the visiting choir with a program of universal and Cuban pieces, similar to the one they presented in the recently concluded International Choirs Festival in Santiago de Cuba.
Renowned Cuban artist Jose Antonio Mendez, director of Matanzas's cultural community center, talked about the work of the Cuban choir. He noted the group won the Festival de Torrevieja, in Spain, and participated for nearly one year in a cultural
mission in Venezuela where they took the Cuban music to the most isolated places of that South American country.
SANS also met with the well-known rumba band 'Los Muñequitos de Matanzas'. Closing up their program in Cuba, the American singers will visit the Martin Luther King Center in Havana.
Source: www.adelante.cu/
---
Related News
---