Cuban Parliament Commissions to Start Sessions
Submitted by: admin

12 / 04 / 2009
---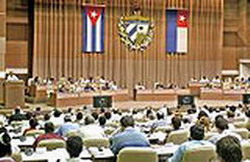 Debates from the 12th Peoples'' Power National Assembly''s Standing Committees will begin works on December 16 prior to the new ordinary period of sessions of the Cuban Parliament. The 12 working groups will analyze specific agendas, and listen reports from officials of state organizations invited to this purpose.
The Committees include international relations, people's power bodies, legal care services, health and sports, care for childhood, youth and equality of women's rights, and education, culture, science and technology.
Sectors like energy and environment, industry and construction, and agricultural food will also be discussed by over 400 legislators.
Constitutionally, the National Assembly Presidency is responsible for organizing and leading the work of those entities, to continue the Parliament labor between periods of sessions.
These Committees will be on session on December 16-17, and then give reports by heads of state organizations. The ordinary period of sessions of the National Assembly will be run on December 19.
Source: www.radioangulo.cu
---
Related News
---