Cuban singer-songwriter Carlos Varela to the USA
Submitted by: admin

12 / 03 / 2009
---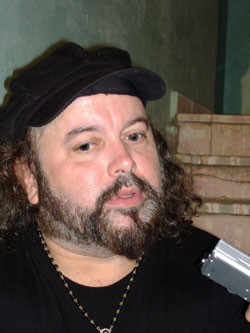 Varela is to Attend Talk on Cuba in Washington
For the first time after being banned for ten years by the George W. Bush government, Cuban singer-songwriter Carlos Varela will be the main speaker at a lecture on the Island's reality organized by the Center for Democracy in the Americas and the Washington-based American University's Council for Latin America.
The talk is programmed for Thursday, December 3, from 4:00 to 6:00 pm, at the Battelle-Tompkins Atrium, of the American University, according to a note circulated by the Center for Democracy in the Americas.
Recently, Carlos Varela participated at the "Peace Without Borders" Concert, held in Havana last September 20, and will talk about it at the talk, besides offering his appraisals on the policy of the United States toward Cuba, the value of the cultural exchanges and other topics.
 "And if we are lucky, Carlos will sing a pair of songs at the end of our debate", the communiqué affirms.
 
"With his eighth album released this year, Carlos Varela's magnificent music continues inspiring the audiences and artists in Cuba and all over the world. He has played with Bob Dylan, Jackson Browne, Bonnie Raitt, Sting, Ben Harper, Los Van Van, Victor Manuel, Silvio Rodríguez, Pablo Milanés and dozens of the best musicians of today", it adds.
 
Carlos Varela visited U.S. in 1998. His visa for a tour that included presentations in Miami was cancelled in 2004, when President George W. Bush severely restricted cultural exchange of the U.S. with Cuba.
 
Now, his permit to be in U.S. only extends until December 22.
 
Source: CubasĂ­.com
---
Related News
---