Biotech industry going on well
Submitted by: admin

12 / 02 / 2009
---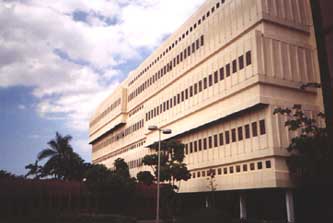 The promising anti-cancer antibody nimotuzumab, developed by Agustin
Lage, head of the Centre for Molecular Immunology (CIM), is currently
undergoing clinical trials in the United States.
Lage and other Cuban scientists presented the methodology and results
obtained by Cuba's biotechnology industry at the Global Forum for Health
Research, held mid-November in Havana. The biotech industry, which began
to develop in Cuba in the 1980s, now holds some 1,200 international patents.
Cuban pharmaceutical research centers had to adopt policies on
intellectual property and protect their inventions with patents in order
to generate export revenues, as otherwise a high-tech sector like this
could not exist, Lage explained. "At the CIM, about 60 percent of the
patents are used commercially in some way," he added.
According to official reports delivered at parliamentary sessions in
late 2008, biotech export sales increased by 20 percent last year
compared with 2007.
Export sales totalled $340 million in 2008, according to estimates by
academics.
Luis Herrera, head of the Centre for Genetic Engineering and
Biotechnology (CIGB), said the development and sustainability of the
industry is based on its "closed circle" approach, which deals with the
full life cycle of its products, from research to production and
marketing. "Without this approach, we would not have got the same
results," he said.
Another key element is cooperation and exchange between all the
institutions. "From the start we realized that we were too poor to
indulge in competition with each other," said Herrera, who added that as
well as integration, the industry is characterized by a "vocation" for
applied research in line with national interests. "A result is not a
result until it has a positive impact on the health system," he said.
The CIGB, the leading institution of Cuba's biotech industry, founded
over 20 years ago, has recently produced a vaccine against hepatitis B,
a synthetic vaccine against Haemophilus influenzae type B, and
Heberprot-P, regarded as the only effective treatment in the world for
diabetic foot ulcers.
CIGB scientists take pride in showing how all Cubans have benefited from
their research, one way or another. Eight years after the hepatitis B
vaccine came into use, there has not been a single case of the illness
in children under five on the island, Herrera said.
When this Caribbean island nation plunged into economic crisis in 1990,
triggered by the collapse of the Soviet Union and the East European
socialist bloc, the government decided to carry on developing the
biotechnology and pharmaceutical industries, creating new facilities in
what is known as the West Havana Scientific Pole.
The Carlos J. Finlay Institute for vaccine development opened in 1991,
the National Biopreparations Centre, which ramps up production for the
biotech institutions, in 1992, and in 1994 the CIM was established, for
research and development and production of monoclonal antibodies.
Monoclonal antibodies are produced in laboratories and bind to specific
target molecules (like proteins) on the surface of, for instance, cancer
cells.
Each monoclonal antibody preparation recognizes only one target protein
or antigen.
Later on, biotech research spread throughout the country and at present
12 provinces have so-called "scientific poles", which integrate the
efforts of researchers, university professors, business experts and
innovators, among others, according to Cuban academics Betsy Anaya Cruz
and Mariana Martin Fernndez.
A study by the two authors underlines that vaccine development has led
to the eradication of diseases like polio, diphtheria, measles, German
measles and mumps in Cuba, and drastic reductions in the incidence of
meningococcal meningitis type B and hepatitis B, thanks to the mass
vaccination programme for children.
"This scientific development is due to political will, and is an
expression of a conception of human rights in which resources and
investment are devoted to the welfare of the country's people as well as
that of other countries," Concepcicn Campa, the head of the Finlay
Institute, told IPS.
VAMENGOC-BC, the only vaccine in the world effective against meningitis
caused by type B meningococci, was developed in the Finlay Institute's
laboratories. A production plant opened in partnership with Brazil in
2007 is making 50 million doses of the vaccine this year to fight
meningitis in over a score of African countries, Campa said.
The joint Cuban-Brazilian production of the vaccine supplies the needs
of the World Health Organization (WHO), which says 400 million people in
21 African countries are at risk from meningitis. "The incidence is more
than 1,000 cases per 100,000 population during outbreaks," Campa said.
The plant has been enlarged for future production of other vaccines,
such as the anti-pneumococcal vaccine which will undergo clinical trials
in 2010.
Pneumococcus is a disease organism that affects humans nearly
exclusively, causing infections such as pneumonia, sinusitis and
peritonitis as well as severe invasive processes like pneumococcal
meningitis and septicaemia.
Among CIM's most recent products is a vaccine for therapeutic treatment
of advanced lung cancer. Registered in 2008, it has proved effective in
prolonging patient survival and improving quality of life.
In mid-2009, the Canada-based drug development company YM Biosciences
obtained a licence for clinical trials in the United States of the
monoclonal antibody nimotuzumab (CIMAher), for the treatment of advanced
tumors of the head, neck and brain - another achievement of Cuban
biotechnology.
YM Biosciences owns 80 percent of CIMYM, the company holding the rights
to nimotuzumab in North America, Europe, Japan and other regions. The
remaining 20 percent is owned by CIM, as developers of the vaccine.
Trials are expected to last three or four years.
If the drug trials are successful, changes will be needed to the U.S.
embargo, which bans all trade with Cuba, before it can be sold in the
United States. Previously, pharmaceutical companies SmithKline Beecham
and CancerVax obtained licenses for experimental trials of the vaccines
against meningitis and for treating lung cancer, although they decided
not to continue with clinical trials.
Political stumbling blocks aside, Cuba's biotech industry has proved to
be a resounding success in every way: by generating new products, and
due to their impact on public health, the number of patents registered,
the volume of exports and the returns on investments, according to Cruz
and Martin Fernndez.
The industry is presently enjoying steady growth, and even higher
economic returns are to be expected in future, the study says.
(1 December 2009)
http://www.individual.com/story.php?story=111015502
---
Related News
---