Nine USA students to study in Havana next spring
Submitted by: admin

12 / 02 / 2009
---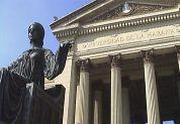 Nine Wilson School students will have the rare opportunity to study abroad in Havana, Cuba, next semester, with the launch of the Wilson School's first task force in Cuba.

"It's a unique experience in that very few of our students have had the opportunity to live in a communist country," said Wilson School professor Stanley Katz, who spearheaded the task force's development. Katz has been working on issues related
to the country since 1997 and was in Cuba last week finalizing arrangements for the task force. "Particularly for someone who's interested in public policy and public affairs, they will learn a lot from the experience," he added.

Students will explore issues such as the impact of an aging population on development, the impact of recent history on infant mortality rates, the effects of internal migration and the impacts of international development and the U.S. embargo on the Cuban population.

"We hope to give relevant recommendations for public policy proposals that could increase welfare for Cubans," Niklas Peters '11, a member of the task force, said.
Though a handful of U.S. institutions have established study abroad programs in Cuba, opportunities remain limited.
The United States has enforced a trade embargo with Cuba since 1963, with travel between nations restricted to journalists and professionals. Students must be enrolled in a Cuban university for at least 10 weeks to obtain a special license issued by the U.S. Office of Foreign Assets Control of the Treasury Department that permits travel to Cuba.

"There are a whole set of legal issues that don't exist for other places," Katz said. "It's a challenge, but we think we've worked it out." Despite the hurdles, Katz said the University was eager to support the program.

Antonio Aja, a Havana professor of population studies and demography in the Centro de Estudios Demograficos, will lead the policy task force.

"He spent a year [at Princeton] about 10 years ago working with the Office of Population Research," Katz said. "We thought that his experience here was a big advantage."

The students will also take three courses at the University of Havana, Cuba's leading academic institution, as well as a Wilson School course called "Arts and Cultural Policy in Contemporary Cuba" taught by Shanti Pillai, the program administrator in Havana. Pillai organized a similar program for Sarah Lawrence College and has a Ph.D. in Cultural Studies.

All coursework, including the task force, will be conducted in Spanish.

"I think a number of us are looking to brush up on and fine-tune our Spanish language skills while experiencing a country that is both physically so close to the United States and culturally and ideologically so different from the life we live
here," said Bryan Locascio '11, another task force member.

Katz said student interest in the program has been "terrific." Aside from the Oxford University and University of Cape Town task forces, which Katz said have always attracted the largest numbers of students, the Cuba task force is the largest the Wilson School offers.

"As a student of Latin American politics, I couldn't find a more fascinating place to be," said Natalie Kitroeff '11, another task force participant. "Cuba is experiencing a time of profound change, and to have the opportunity to be present at this moment in history is truly a privilege."

Princeton took care of obtaining approval for their stay in Cuba, students said. Though they noted that there would be some adjustments, all the students interviewed said they had no concerns about traveling there.

"I've been twice and have experienced firsthand the overwhelming warmth of the Cuban people," Kitroeff said. "[I] cannot wait to be there."

Source: www.dailyprincetonian.com/

---
Related News
---