Cultivable Land to be increased in Over 600 000 ha
Submitted by: admin

11 / 26 / 2009
---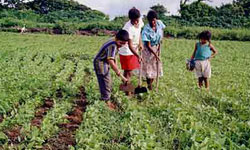 600 000 hectares will be added to Cuba's cultivable lands to enhance food production, through the sub-urban agriculture program, highlighted Adolfo Rodríguez Nodal, head of the national group in this field.
In a meeting with producers and directives in eastern Holguin province, Rodriguez stressed that this initiative is about bringing the production closer to the people, thus saving resources while increasing the availability of products.
The official underscored the pilot projects in 17 Cuban municipalities, to collect experiences that will be later spread throughout the country. He especially praised the central Cuban province of Camaguey, where this project was implemented
seven months ago.
The new procedure, he said, is based on the creation of farms close to urban areas and it is based on diversifying as many agriculture productions as possible, like milk, cattle meat, vegetables, fruits and others.
Other principles to be put in force will be the increase in the use of animal traction, a quicker commercialization system, and the saving of fuels.
Rodriguez added that this kind of agriculture needs to be developed based on the region's needs, in such a way that productions could flow into the market as soon as possible, thus avoiding any expression of bureaucracy hindering effective suplies.
This practice will guarantee food security on the island using as a baseline the urban agriculture program, being implemented throughout 15 years.
Source: Juventud Rebelde
---
Related News
---