Cuban dancer Carlos Acosta and daily life
Submitted by: admin

11 / 22 / 2009
---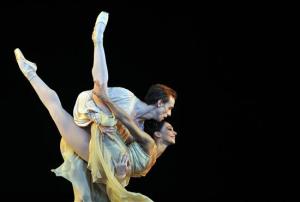 It gets harder and harder to wake up and start the day. I eat breakfast at 8.30 — oatmeal, berries, bananas and tea. And because I need protein, I often have eggs as well. I'm pretty laid-back about clothes. My T-shirts and casual stuff come from H&M or Zara, though I have a couple of expensive Prada suits for black-tie functions. I don't like wearing them, but sometimes you have to dress up.
I have a house in Islington, north London, but I also own a house in Havana, where I can take a break from ballet. In Havana, at 8.30 I'll be sitting on my terrace eating mangoes, papayas and oranges, looking out at white sand. The sea is four blocks away. When I came to live in London and to work with the Royal Ballet 11 years ago, not being able to see a blue sky every day made me miserable.
It was rough being alone, having to remake my life. But now I'm in a relationship grey skies don't matter. It's very special to have someone to come home to. Charlotte is a writer. We lead an ordinary life — shopping, going to movies, getting my hair cut at the Israeli hairdresser in Islington. People stop me on the bus or Tube; they can't believe I take public transport.
Ballet is like training for the Olympics eight hours a day, and when you're performing you have to take classes. At the Opera House, Covent Garden, we break for an hour at 12 for lunch in the canteen: fruit, carbohydrates, or soup and salad with vitamin drinks. It's not good to overeat because after lunch you work on the repertoire and you know you're going to have to jump. Flying in the air feels amazing.
When I was younger and could be up there with nothing hurting it was like "Wow!" The older you get, the more you need ice packs and massage, which I have at least twice a week. If I take time out from dancing I get slim because I lose bulk from my muscles. But it's not great to lose tone in your abs and I'm going to have to take care when I eventually quit dancing. I'm already getting to the end of my classical repertoire. I know I'll develop love handles, and I think my girlfriend will mind about that.
Havana is where I relax from ballet, and I love to hang out with my family. Life there is hectic, but there's no pressure of classes or performances. I'm happy to teach at the National Ballet School when they ask me. Because of my experiences travelling and performing, I bring a melting pot of different cultures and influences to my teaching. And I've just acted in a road movie in Havana. I play one of the main characters, a tourist guide who falls in love. I never realised how much waiting around there is when you make a film.
I know a lot of people in Cuba, but many from my group have left. Havana has become a kind of transit place — whenever I go back, someone else has gone. Things change. But I understand. Everyone wants the opportunity to make a better life where they can earn more money — and who isn't interested in money? It means security for their kids. I'll have a relatively short career and I want a good retirement with enough money to travel. I've bought long-term stocks, property and made sound investments. I have good advisers who explain predicaments for the future, and most days I read the financial news.
I always suffer from jetlag coming home from Havana. I travel a lot with Charlotte, but not when I'm rehearsing. Then I have to clear my head to concentrate on learning choreography. Ever since we met I've been clear about sometimes having to be alone. Everybody needs their own space. She and I are both working on novels, and she helps me a lot, even though I write in Spanish. I have this book inside my head and I know exactly where I'm going. But in the process of writing, things happen. You discover things about the characters which set up new possibilities. When the writing goes well, it's a very good feeling. I work on a laptop in my messy dressing room, where I'm able to cut myself off from everything. I read a lot, too. I'm in the middle of 2666, by a Chilean writer, Roberto Bolaño, who died too young.
On a performance day I go home for a big lunch and then rest. Later, back at the theatre I have to warm up, then it's time for make-up. After a performance, when you've given your all and everything went well for you, it's an incredible feeling. Fans turn up — sometimes with flowers, champagne or well-wrapped bottles of rum. I'm amazed at how many different countries people have travelled from. I was just in Guadalajara, Mexico, and people came to my dressing room and said they'd travelled from Japan and Paris.
We go home for a late dinner. Charlotte cooks. I can only make black beans with rice, which we eat a lot in Cuba. I throw off my shoes. It's wonderful to pad about barefoot on the wooden floor, but dancers have such ugly feet. I fall asleep very quickly, knowing that next morning I'll have to get up and go and disconnect from my dreams s
Carlos Acosta dances in Apollo and Other Works at Sadler's Wells from December 1 to 5, and with Ballet Nacional de Cuba, London Coliseum, from March 30 to April 11, 2010.
Source: http://entertainment.timesonline.co.uk/
---
Related News
---