Cuba and its children protection policy
Submitted by: admin

11 / 22 / 2009
---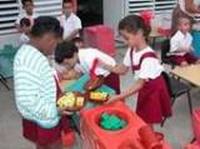 UN official urges countries to learn from Cuba on children's protection, children in Cuba go to school and have access to health care.
The representative of UNICEF, or the UN Children's Fund, in Cuba said here Friday that Cuba is among the countries that have best implemented the UN Convention on the Rights of the Child, and that countries in the world should learn from Cuba on the protection of children's rights.
    Jose Juan Ortiz, speaking at celebrations marking Universal Children's Day, said Cuba, still under an economic embargo and is suffering from frequent natural disasters, has significantly reduced child mortality and improved child nutrition --
to levels that can rival those of developed countries.
    The cause of the amazing achievements in children's protection in Cuba lies in the government's political will, he added.
    All countries in the world should follow Cuba's example and strive to provide better conditions for children in judicial and social welfare fields, Ortiz said, adding that in this way most countries would be able to meet the targets set by the UN Convention on the Rights of the Child.
On Friday, Cuba held a variety of activities nationwide to celebrate Universal Children's Day.
Children and youngsters are particularly protected on the island, they receive a cultural education as well by means of art instructors.
Source: www.chinaview.cn
---
Related News
---