Forestry is improving at Ciego de Ávila province
Submitted by: admin

11 / 19 / 2009
---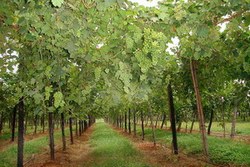 According to data of United Nations Food and Agriculture Organization, Cuba is one of the few countries of the world where forest areas grow every year.
New forestry activities are carried out in Ciego de Ávila not only to guarantee the conservation of forests, but also as a means to obtain the raw material derived from them and used in economic and social works.
Mario Andrés Hernández Pulido, head of the State Forest Service in the territory, informed that several programs are being implemented to increase the production of seeds of fruit-bearing trees and hard wood species such as mahogany, cedar, teak, majagua and oak.
"In the municipality of Florencia, a farm of male pine (Pinus caribaea) is being financed, since the wood is used in pre-cast constructions and the making of coffins", Hernández Pulido added.
This tree-as stated by the specialist-is scarce in the province of Ciego de Ávila, since it was not planted for quite a long time and it takes some twenty years to reach maturity.
Priority is also given to the cultivation of two eucalyptus species (Eucalyptus grandis and Eucalyptus urophylla). Both are used to obtain paper pulp, which product is sold at 800 dollars a ton in the world market.
Nuria Segura provincial Collazo, specialist in Forestry in the provincial Forest Company, said that there are 500 hectares already planted with those species while other species are being currently assessed to foster 17 more hectares.
The index of wooded areas in Ciego de Ávila is currently 16,20 -which figure is under the national average of 24. Over 50 percent of the arable lands of the territory are dedicated to agriculture; nevertheless, actions are conducted to increase to 19 the reforestation level by 2015.
Source: www.invasor.cu
---
Related News
---