Science at the leading edge versus embargo
Submitted by: admin

11 / 13 / 2009
---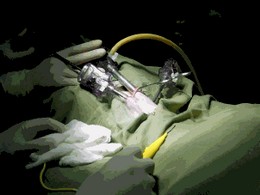 Cuba already has normal diplomatic and economic relations with most other nations but with the USA.
Those of you who were too young to experience the fall of the Berlin Wall in 1989 may soon  witness the metaphorical crumbling of another diplomatic wall: the U.S. embargo on Cuba. This time science may be at the leading edge.
As Elisabeth Pain and Kate Travis described last week in Science Careers, the fall of the Berlin Wall 20 years ago opened up many opportunities for scientists in Eastern Europe to travel to the West for study and research. In Cuba, the United States is playing catch-up, since Cuba already has normal diplomatic and economic relations with most other nations. But right now there's a delegation of American scientists and policy experts visiting Cuba, as reported last night by our colleagues at Science Insider. The goal of the U.S. delegation, says a news release from AAAS (publisher of Science Careers) is "to explore research issues and multilateral science venues that might be conducive to U.S.-Cuba scientific cooperation."
While many such delegations are long on rhetoric and short on action, this group of visitors may benefit from something of a tropical thaw.
Steve Clemons, director of the American Strategy Program at the New America Foundation and one of the delegation members, says in a Washington Note blog post that the atmospherics between the U.S. Interests Section in Havana -- the U.S. does not have an official Embassy there -- and the Cuban government have improved tangibly. "There is a marked, highly noticeable change in the attitude and 'posture' of the Cuban government towards US State Department and other US officials assigned to
the embassy-lite operation in Havana," he says. "Cuban authorities, apparently, are engaging the U.S. government personnel constructively -- and this just didn't happen before" This is one of several indicators Clemons found pointing toward more bi-lateral cooperation.
Clemons separately highlights Cuba's use of its medical schools and staff as diplomatic tools, which he feels could serve as a template for exchanges between Cuba and the United States.
As a result of those early contacts, Pakistan has since established diplomatic relations with Cuba. Today, Pakistani students attend the Latin American School of Medicine in Havana.
Cuba in recent years sent teams of its doctors to help local populations recover from natural disasters in Pakistan and elsewhere.
Source: blogs.sciencemag.org/
---
Related News
---