Legal and lobbying fight between cigar makers Swedish Match of Stockholm and Imperial Tobacco Group of Bristol, England.
Submitted by: admin

06 / 24 / 2009
---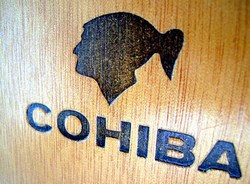 As President Obama moves to ease restrictions on trade with Cuba, cigar lovers are savoring the prospect of legally lighting up a smoke that has long required a black-market connection and a willingness to flout the law.
"There's a mystique about a Cuban," said John Anderson, owner of W. Curtis Draper Tobacconist, a cigar shop in Washington, D.C. "Cuban tobacco has become the forbidden fruit."
The possible end to the 47-year-old embargo on Cuban trade has intensified a legal and lobbying fight between cigar makers Swedish Match of Stockholm and Imperial Tobacco Group of Bristol, England.
Each wants exclusive rights to sell Cuban-made brands in the United States, the world's largest market for premium cigars.
Swedish Match sells cigars in the United States made in Honduras and the Dominican Republic under Cuban brand names.
It bought the brands from families that fled Cuba after Fidel Castro seized their cigar companies in the 1960s. Imperial distributes Cuban-made cigars under many of the same names to the rest of the world through an agreement with the Cuban government monopoly, Cubatabaco.
"Before serious commerce resumes, this is going to have to be resolved," said Robert Muse, a Washington lawyer who advises clients on Cuba-related issues.
Opening the U.S. market to Cuban cigars may jeopardize the jobs of the 147 workers at the U.S. headquarters of Swedish Match's General Cigar subsidiary in Richmond, Va., according to Gerry Roerty, the unit's general counsel.
"The market is going to be turned upside down," Roerty said in an interview. After waiting for almost five decades, Americans "will buy a Donald Duck cigar if it's a Cuban."
Obama lifted prohibitions on Cuban-Americans traveling to the island in April and eased restrictions on shipping clothing, seeds and other gifts to Cuban residents.
Before the United States takes further steps, Obama says Cuba needs to free political prisoners and allow freedom of speech and religion. House Ways and Means Committee Chairman Charles Rangel (D-N.Y.) predicted last month all travel and trade prohibitions, imposed by President Kennedy in 1962, will be lifted by the end of next year.
Cuban cigars, hand-rolled from the tobacco of the Vuelta Abajo growing region, hold a cachet in popular culture that dates back to the island's days as a playground for gamblers, novelists and mobsters.
The day before Kennedy imposed the embargo, he dispatched Press Secretary Pierre Salinger to buy 1,000 Cuban-made Petit Upmanns, according to an account Salinger wrote in 2002.
"A Cuban embodies so much more than smoke," said James Suckling, who has written articles on Cuba for Cigar Aficionado magazine.
He estimates Americans consume about 20 million Cuban cigars a year, enjoying them while traveling to Mexico or the Caribbean or stowing them in luggage on the way home.
The forbidden fruit carries a premium: A box of 25 Cohiba Robustos costs $304 on the Hong Kong-based Cigars of Habanos website, where shoppers are offered the option of shipping to the United States without regard to the government's ban.
A Dominican-made version sold online by Holt's Cigar of Philadelphia sells for $175.
Because of the low acidity in the soil and a temperate climate, Cuban cigars have an earthy aroma and a "full taste" that make the best of them the finest cigars in the world, said Benjamin Menendez, a Cuban who fled the country in 1960 after Castro confiscated his family's cigar company, Menendez y Garcia.
Not all Cuban cigars meet those standards, he said.
"People are told they have a Cuban and they immediately assume they are good," said Menendez, who has blended tobacco around the world and at age 73 hosts 150 cigar tastings a year for General Cigar. Once Americans can buy Cuban cigars at their local tobacco shop, "a
lot of people are going to be disappointed."
Swedish Match and Imperial Tobacco both sell Dominican-made cigars in the United States and together account for almost half of the sales in a U.S. market for premium cigars that the Swedish company estimates at $850 million annually.
After cigar makers fled Cuba, Cubatabaco began exporting cigars under brands such as the Menendez family's Montecristo and H. Upmann, and developed new brands, such as Cohibas.
Because of the embargo and U.S. court decisions, Cubatabaco couldn't keep the trademarks in the United States, and General Cigar bought brands from the refugees.
Through an acquisition, Imperial owns a subsidiary that took the same stance, buying brands such as Montecristo from exiled families.
That created the divided cigar market, in which one company owns a brand such as Partagas in the United States and another does so around the world.
Cuba lost the U.S. rights to Cohibas when General Cigar registered the brand in the 1970s. General Cigar has so far fended off a 1997 lawsuit brought by Cubatabaco to reclaim that name. A new ruling in the case may come within months.
General Cigar has spent more than $5 million lobbying Congress over the past eight years. It got lawmakers to strike a provision in a 2001 measure that it says would have allowed Cuba to barter cigars for food or medicine.
Imperial began lobbying this year for the first time since at least 2000, spending an initial $30,000, according to Senate records.
The fate of the Cuban trade embargo is more than an idle topic for discussion among the lobbyists, lawyers and politicians who frequent Shelly's Back Room in Washington. Regulars at the cigar parlor located between the White House and the Capitol share the dream of getting their hands on a legal Cuban cigar.
"Cuban cigars are legendary," owner Bob Materazzi said. "Anybody who is a cigar geek
is interested."
Source: NJ.com
---
Related News
---