Vicente Feliú and Pepe Ordás, two outstanding cuban´s troubadours
Submitted by: admin

06 / 17 / 2009
---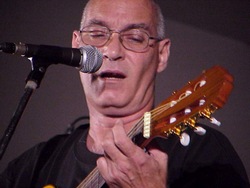 Both places will provide their audience with breathtaking performances of those artists.
To avoid the clash, the concert by the former will take place at 9:00 pm on Friday 19, while the performance of the troubadours will start "a little bit later", so that the fans willing to enjoy both presentations may be pleased in spite of not being endowed with ubiquity.    
Haydée Milanés has sung her way to fame through Latin jazz, the troubadour tradition, bossa nova, as well as soul and pop music, with a wide repertoire that proves her possibilities, beyond bearing a last name that means not only guarantee, but also commitment.  
Feliú and Ordás will put their hearts on their guitars to give away the best pieces of their outstanding career as undisputable exponents of the New Song in Cuba.
(Invasor.cu)
---
Related News
---