Camagüey, Cuba and its Nuances: Ecological Reservation Limones-Tuabaquey
Submitted by: admin

06 / 15 / 2009
---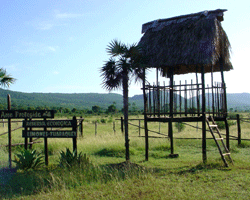 But this Cuba's eastern region shows other nuances.
Here, the visitor who wishes to see each detail of this "smooth land of herdsmen and hats", as wrote Cuba's National Poet Nicolas Guillén, can find the Ecological Reservation Limones-Tuabaquey in the Sierra de Cubitas, a spot listed in the National System of Protected Areas.
By the side of a kartst range of hills there is base from where a group of specialists and qualified personnel living nearby are creating conditions for the conservation and enjoyment of such a peculiar environment.
For a long time before, Jorge says, this was the main road used between Camagüey and Sola, but in 1974 it disappeared when El Paso del Lesca highway was built, so the rock layer was removed and the vegetation grew again.
After some years of hard work and appropriate management, Limones-Tuabaquey has been able to recover 90 per cent of its damaged areas and nowadays the reservation counts with 600 species of plants, including 232 timber trees and 22 precious woods.
The conservation and protection projects have made possible to recover the parrot and the catey, two species that have almost disappeared from the ecological reservation and today slightly increase their populations.
In the same group are included species that had started to migrate to areas of better environmental conditions and others like the purple-tailed pigeon, which decided to settle down definitively in the site after finding a proper setting in Limones-Tuabaquey.
The Cuban trogon, the Cuban hutia, the Cuban tody, the Cuban boa and even the mancaperro (Giant Cuban millipede) are some of the vertebrates and invertebrates that dwell in the surroundings of the El Hoyo de Bonet and El Paso de los Paredones protected by some 20 park rangers.
(ACN)      
---
Related News
---