US Religious Organization Pastors for Peace Prepare Next Caravan to Cuba
Submitted by: admin

05 / 29 / 2009
---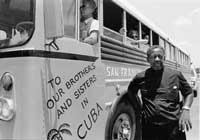 The caravanistas will visit 140 cities of North America as they collect humanitarian aid and explain about the US economic, commercial and financial blockade against Cuba.
Once on the island, caravan members will participate in educative and cultural activities during nine days, according to a report by the solidarity-with-Cuba organizations in Vancouver, Canada, which launched the announcement.
The call, circulated on the Internet, explains that every year over 100 people join Pastors for Peace (www.pastorsforpeace.org) to help the Cuban people, victims of the US anti-Cuba action lasting nearly 50 years now.
In order to inform future caravanistas in Canada, the organizations called for an evening cultural gathering last May 17 where they showed pictures of previous caravans and the Pastors for Peace documentary film against the US blockade of Cuba, titled "Who is afraid of the little yellow bus?"
Over the past years, Pastors for Peace, which is part of the Interreligious Foundation for Community Organization, has brought caravans with humanitarian aid to the Cuban people, including personal computers, school material, ambulances, school buses among other items.
Reverend Lucius Walker, head of Pastors for Peace, has made it clear that they will continue to help the Cuban people and will maintain their position against the US hostile policy against Cuba.
(Cubanow)
---
Related News
---