12th International Symposium in Havana on the Personality and Work of Ernest Hemingway
Submitted by: admin

05 / 29 / 2009
---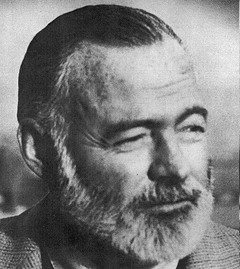 It will commemorate 110 years since the authors birth, 80 years since the publication of A Farewell to Arms and 55 years since he was awarded the Nobel Prize for Literature.
Ada Rosa Alfonso, director of the Hemingway Museum here told press at the headquarters of the Symposium in Ambos Mundos Hotel it is "a refuge several kilometers from Havana and where Papa lived and wrote some of his most important books."
Supported by the Hemingway Faculty of the Jose Marti International School of Journalism and the National Council of Heritage, the subject will include a paper on the influence of Cuba in the narration that Ernest Hemingway used in The Old Man and the Sea, presented by US professor Andrew Felmand.
The program includes visits to places that were special for him including the Floridita restaurant which now has a bronze sculpture of the writer sitting at the bar.
There will also be visits to Ambos Mundos Hotel, where Hemingway rented a room every time he stayed in Havana.
Visitors will see the Las Terrazas restaurant in Cojimar where the author would meet with his fishing buddies, leaving a deep mark on those who shared his anxieties and long nights of rum and brotherhood waiting for the elusive fish.
And, of course, Finca Vigia, where Hemingway spent half of his active life.
(Ahora.cu)    
---
Related News
---