In Havana a simple and lovely concert of poems and songs for the Heroine of the Cuban Revolution
Submitted by: admin

05 / 28 / 2009
---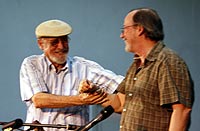 That institution was created in 1959, when Fidel Castro's Revolution triumphed - in which she was one of its protagonists from the start – and it immediately linked itself with Latin American intellectuals, among them many who would emerge as future luminaries.
Retamar worked with Haydée Santamaría and some years after she passed away he remained as the director of the Casa de las Américas, up the now, while Silvio and other founders of the nueva trova promoted their first concerts at that institution and the decisive support of its director.
Offered in the Casa itself for a select public and connoisseurs of the work of both creators, the recital was done with 12 of Retamar's poems and an equal number of Silvio's songs, one of them a premiere.
They entitled it With the same hands – as one of the poems is called – and they prepared it with a sense of sobriety, with pieces that speak of the best human feelings and above all of love.
What attracts attention is that it seems they tried to make the poems and songs have similar essences and themes, so that after each piece that Retamar read, Silvio sang a theme that went back to the poem, something that contributed a special sparkle to the event. For example, after Mi amada, Silvio sang Mujeres, and after Retamar read Otro poema conjetural, he played the round Qué duro ha de ser para el poeta.
Lasting for one hour, the concert was a special gift not only for the memory of Haydée Santamaría, but also for the public, who the entire time was attentive, concentrated and sometimes singing.
(www.cubanow.net)
---
Related News
---