Pentagon Cites Evidence on Gitmo Detainees Who Returned to Battlefield
Submitted by: admin

05 / 27 / 2009
---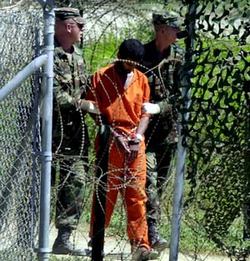 Pentagon offers up fingerprints, DNA, photos and intelligence to link former Guantanamo Bay detainees to recent terror action.
The Pentagon said Tuesday it has fingerprints, DNA, photos or reliable intelligence to link 27 detainees to the battlefields since their release from the prison on Guantanamo Bay, Cuba.
"What this tells us is, at the end of the day, there are individuals, that if released, will again return to terrorist activities," Pentagon spokesman Bryan Whitman said Tuesday.
Some constitutional lawyers have disputed the data because it is not specific about the evidence used to track the detainees.
The Pentagon said all the detainees captured, and in most cases held, for years at Guantanamo were tied to Al Qaeda, the Taliban or other foreign fighter groups.
Speaking out against the United States, or participating in other anti-U.S. propaganda alone is not considered terrorist activity, the Pentagon said.
(www.foxnews.com)
---
Related News
---