In Santiago de Cuba: Heavy Rains that Forced Evacuations Ease
Submitted by: admin

05 / 23 / 2009
---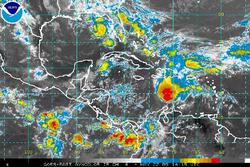 Lieutenant Colonel Gustavo Alvarez, head of the Civil Defense Staff in Santiago de Cuba, told ACN that the evacuees were taken to the Julio Fucik School were there is no risk of flooding. He said the school is the only center opened for evacuation at the moment.
Details of the buildings that collapsed in the city have not been specified yet, while water levels continue to lower and houses that were completely covered by water are no longer flooded.
The provincial Defense Council continues to be on alert for any emergency situation and to protect the people of Santiago de Cuba, and prevent material losses, said Alvarez.
The weather is expected to improve in the coming days, but there could be further rain as surface temperatures rise with the presence of a low-pressure system affecting eastern Cuba, explained Leonel Dominguez, a weather forecaster at the Institute of Meteorology in Santiago de Cuba.
Water reservoirs in Chalon, Majagua, Gilbert and Protesta de Baragua have begun to release water, and the 11 dams throughout the province are filled to 95 percent capacity.
(Juventud Rebelde)  
---
Related News
---