PAHO official praised Cuba for efficienciy in collection of blood donations
Submitted by: admin

05 / 21 / 2009
---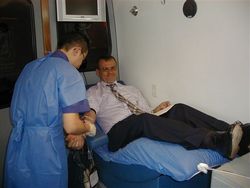 According to Granma news daily, the PAHO official, who is participating in the international event Haematology 2009, underway in Havana, said that Cuba is one of the most efficient countries in Latin America in this field.
During his presentation, Pichardo gave details of the collection of blood donations in 18 Latin American countries and noted that it is insufficient.
He explained that the low availability of blood for therapeutic use is linked mainly to two elements: its deterioration due to prolonged storage and its collection from unsafe patients.
From Cuba, the country that shows the best results in our study, PAHO calls on all countries to encourage, systematically and periodically, the voluntary donation of blood by people with healthy life styles and regular checkups, the PAHO official stressed.
Even when Cuba has already reached the goal of one blood donation per every 20 inhabitants set by the World Health Organization (WHO), local health authorities continue to improve mechanisms to increase the number of voluntary donations and the quality of blood.
(ACN)
---
Related News
---