The Cuban musician Edesio Alejandro pays tribute to Juan Blanco
Submitted by: admin

05 / 15 / 2009
---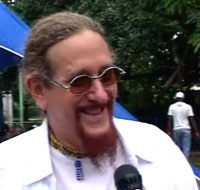 The 2009 Season of concerts of the National Laboratory of Electro acoustic Music continues its presentations, dedicated to the 30 anniversary of its foundation, 45 years after the first public concert of electro acoustic music in our country and to pay tribute to the work of Juan Blanco, this time with a concert of Edesio Alejandro
The program includes the piece Tecnotronicas, composed in 2002 for Theremin, computer and life electronic, by Juan Blanco and Edesio Alejandro.
This piece was made with MIDI procedures, direct digital synthesis and instrumental performance. It is composed by a number of pieces inspired in Musica para Danza, the first electro acoustic piece made in Cuba by Juan Blanco in 1961 with three home tape recorders and an audio oscillator. The piece recreated 40 years later by the own Juan Blanco, accompanied by Edesio Alejandro. The result was a totally new piece which included the new trends of the music.
This Saturday Edesio will be accompanied by his son Cristian Alejandro in the guitar and the synthesizers.
Juan Blanco (1919-2008) was the pioneer of the electro acoustic music in Cuba. Along his long and fruitful life he also wrote melodies for cinema, ballet and open air shows and also was the President of the Cuban federation of Electro Acoustic Music and vice president of the Cuban Section of the International Council of Music of UNESCO. He won several award and prices, among them the 2002 National Music Award the Felix Varela Order and the Alejo Carpentier Medal.
(Cubarte)
---
Related News
---