More return from Cuba after eye surgery
Submitted by: admin

05 / 08 / 2009
---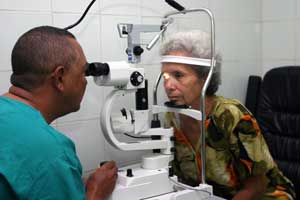 All of the patients were part of the Mission Miracle Programme, which is a relationship developed between the Governments of Guyana and Cuba. Kaieteur News understands that approximately six other eye patients are still in Cuba for further observation after having undergone complicated eye surgeries.
This group of patients is said to be the last batch to have undergone surgery in Cuba, but it was noted that a decision will have to be made by officials at the Ministry of Health whether another batch will be sent for similar surgeries.
However, it was explained that if another batch is sent, then it would not happen within a few weeks, but every two months or so.
Upon their return, the patients expressed their appreciation to the Guyana Government for giving them the opportunity to undergo free eye surgery and to the doctors in Cuba for making it successful.
Mission Miracle is part of a bilateral agreement between the governments of Cuba and Guyana. Since its commencement in 2006, it has restored the vision of thousands of Guyanese and people across the Caribbean and Latin America.
Phase One of the Mission Miracle programme which concluded in December 2007 screened over 40,000 Guyanese from various communities across the country.
Of the 40,000 screened, 5,000 Guyanese were sent to Cuba to undergo surgery.
The batch of patients came from the entire cross section of health institutions around Guyana that boast eye care facilities - Leonora, Suddie, Diamond and Mahaicony Diagnostic and Treatment Centres and the Linden, New Amsterdam and Georgetown Hospitals.
Some patients spent three weeks in Cuba after surgery to allow the doctors to monitor their progress.
The government provided the patients with a stipend, while the entire service, which includes travel, accommodation and meals were provided free of cost by the Cuban Government. All of the patients were accompanied with a relative on the trip.
Meanwhile, the National Ophthalmology hospital will be providing a range of services when the equipment that is installed is commissioned shortly.
This institution is expected to conduct as many as 10,000 eye surgeries per year. The Government of Guyana is also allowing neighbouring countries to benefit from the services provided at the hospital, the first of its kind in the Caribbean.
(www.kaieteurnews.com)
---
Related News
---