New Services of the Moron Hospital in the province of Ciego de Ávila, Cuba
Submitted by: admin

05 / 08 / 2009
---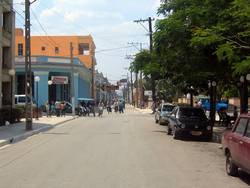 The center started to work in the 80's, when the population was approximately 200 000 inhabitants in the central and north sides of Ciego de Ávila.  
Héctor Luis Salazar, director of the institution, informed that among the wards most recently added facilities is intermediate therapy ward, with 24 beds and all the conditions needed with regard to equipment, professionals and technicians.  
In spite of the unfavourable scenario provided by the world economy, some other facilities have been enlarged, among them, the hospitalization areas of ophthalmology, nephrology, haemodialysis and outpatient cares.  
Other wards that underwent restoration were those holding of the Children-Mother Assistance Program. They are orderly located now, starting from the childbirth ward up to the rooms less related to children care.  
The physician also expressed that the hospital flow allows fulfilling the epidemic norms established for a center of this kind.  
The investments in the Health sector also comprise the Doctor Antonio Luaces Iraola Provincial Hospital, in Ciego de Ávila city, which institution improved its services with modern technology in wards given over to pre-childbirth, Caesarean section, and burnt patients.  
The population of the territory also benefits from the set in operation of 10 entomology laboratories for the diagnosis of vectors, as well as stomatology services in the policlinic of Venezuela town, which also includes the making of dental prosthesis.  
(Invasor.cu)
---
Related News
---