Cuban authors Alejandro Castro and Jose Luis Mendez presented at the International Book Fair of Argentina
Submitted by: admin

05 / 03 / 2009
---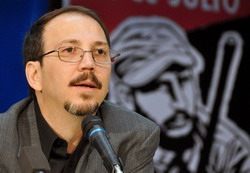 Imperio del Terror, by Engineer and Master of International Relations Alejandro Castro, son of Raúl Castro, focuses on the development of Capitalism in the United States, its origins, and the processes that turned that country into an empire, said Julio Cubria, deputy director of the publishing house that printed the volume, the Capitan San Luis.
The manager of Cartago Ediciones S.A., Marcos Campos, expressed his satisfaction for introducing readers to the title Bajo las alas del condor, by historian Jose Luis Mendez, a meticulous work on important aspects of actions carried out under the name of Operation Condor by the latest Latin American dictatorships, Prensa Latina news agency reports.
Journalist and writer Stella Callon said that it's important for the Argentinean public to have access to this book and to others by Cuban authors on the actions of the US in Latin America and the world, due to the thorough and profound work of researchers at the time of getting to the bottom of the dirty war.
For his part, Mendez spoke about his work Los mensajeros de la muerte. Centro America la punta visible del iceberg, a study on the role of Argentinean advisors in that region, mercenaries of Cuban origin in Vietnam and in Latin American countries, and other criminal operations carried out practically from 1959 to date.
Present in the activity were Cuban ambassador Aramis Fuente and cultural counselor Maria Cristina Delgado, among other diplomats.
Source: ACN
---
Related News
---