Romerías de Mayo in Holguin from May 2nd to 8th
Submitted by: admin

05 / 02 / 2009
---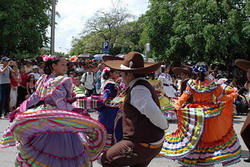 More than 300 foreign guests from thirty country and about 150 Cubans will participate in the 16th edition of the May Festival from May 2nd to 8th.
The festival, which is sponsored by the AHS and which is organized by the Culture Provintial Direction, expects important events such as the interpretation of the Beethoven's ninth symphony, 185 years after it was premiered (1824) and which will be directed this time by professor Enrique Pérez Mesa.
It was the last complete symphony by the German composer Ludwig van Beethoven and it is considered to be one of the most important and popular pieces in classical music. Its last choral movement is the theme of the Festival which, even though it has a religious origen, was rescued by the artistic avant garde since the 1990´s.
Traditional spaces such as La Cámara azul where two Spanish producers will premiere their last movies will come back and there will also be two premieres coming from Canada.
The Festival La boca del lobo and the Muestra de Jóvenes realizadores Hill also arrive with their last edition. The space aims for a tribute to documentary makers and it will screen movies by Sara Gómez.
The event represents this year yet another space of exchange that hopes to become a Festival Mundial de Juventudes Artísticas and to whose announcemnt are added countries such as Canada (this year it will be dedicated to Montreal), Mexico, Brasil, Venesuela, Honduras, Costa Rica, Japan, Senegal and South Africa.
The Festival will also include the usual spaces such as Babel, Raíces, la Fiesta de los abrazos, the space for Literature, music, and the Artisan Festival, organized this time in Expo Holguín, where there is also the thinking congress Memoria Nuestra.
Source: Cubarte
---
Related News
---