Cuba on Alert by Swine Flu, but 1st May Annual Parade proceeded succesfully in the whole country
Submitted by: admin

05 / 01 / 2009
---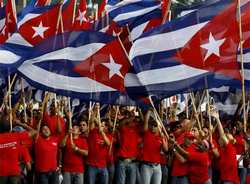 With no suspected or confirmed cases of swine flu, Cuba made succesfully it biggest annual gathering, the May Day parade through the capital's Revolution Square on.

The traditional early morning event draws tens of thousands of marchers bused in on city vehicles from neighborhoods in 11 municipalities throughout the city and across the bay.

Smaller celebrations took place in cities across the island.

This is the sort of public gathering that most countries where cases of the H1N1 flu have appeared would not even consider.

And despite the fact that the World Health Organization says closing borders will not help and that countries should simply try for containment of the new variant of swine flu, Cuba remains closed to flights from Mexico.

The island's military-run Civil Defense is on alert and special steps are being taken in airports, marinas and sea ports to prevent the flu from entering the country.

The midday news Thursday showed health personnel wearing face masks greeting all passengers arriving on international flights with a health card to be filled out with information on countries visited prior to Cuba and whether they have exhibited cold symptoms in the last 10 days.

Cuban airport workers are also interviewing flight crews upon arrival as to whether they observed passengers exhibiting possible flu symptoms on the plane. Should a passenger be singled out, medical workers would board the plane, according to the TV report, and immediately remove them to Havana's Tropical Medicine Institute.

 Cuba is implementing stringent health and security measures at airports to prevent an outbreak of swine flu on the island.

And instead of the regular cleaning staff entering planes during their stopovers, specialized gloved and masked crews are boarding the planes to pick up trash, which is then immediately burned.

The ports are the only place where face masks are being regularly used.

Community health clinics and hospitals are on alert. Their staffs have been thoroughly briefed on swine flu, according to doctors speaking on behalf of the Ministry of Public Health.
The director of the Salvador Allende hospital in Havana says the facility is prepared to be the main treatment center should cases of swine flu appear among the Cuban population. That hospital was also the main hub for treatment during last year's outbreak of dengue fever, a disease transmitted by mosquitoes. Now the hospital has set aside a 50-bed intensive care unit to be used if the epidemic reaches the island.

Cuban television, radio and newspapers are headlining swine flu news and describing the symptoms to watch out for and urging people to frequently wash their hands and to cover their mouths and noses when coughing or sneezing.

Source. CBSNews
---
Related News
---