Today special TV program to inform cuban population about swine flu, still no Cases reported in Cuba
Submitted by: admin

04 / 29 / 2009
---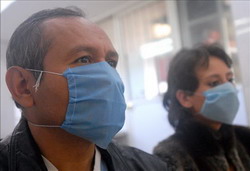 No cases of swine flu have thus far appeared in Cuba and there are no patients who could be suspicious of having the disease in any Cuban hospital, said Dr. Luis Estruch Rancaño, Deputy Health Minister in the area of Hygiene, Epidemiology and Microbiology.
Dr. Estruch said that the country's health system has all diagnostic and treatment capabilities to face the new swine influenza A virus, H1N1. However, in the face of the prevailing situation in Mexico, the U.S.A., Canada and other countries, which have reported increasing swine flu cases in humans, Cuba is updating all its clinical and epidemiological capacities, as well as all those related to health care attention of the population.
In coordination with the National Civil Defense and other entities, the Cuban Health Ministry is implementing actions relevant to the circumstances that may be caused by the evolution of the situation.
According to the World Health Organization (WHO) the Influenza A virus, H1N1, had not previously been detected in animals or in humans, therefore it is difficult for experts to predict the impact of a possible epidemic caused by the virus.
Symptoms are quite similar to those of the classic flu, like the rapid presence of high fever, sharp headache, running noses, itching eyes, and vomit in some cases. As it happens with all respiratory diseases, infection takes place from person to person in the act of speaking, coughing or sneezing, and by direct contact with objects already contaminated with virus secretions.
On Wednesday the national TV program Mesa Redonda will broadcast a general information to the whole country about the situation of the spreading of the swine flu in the world, the local situation and the measures that are recommended by the Ministry of Public Health and the National Civil Defense.
Source: Radio Habana Cuba
---
Related News
---