Diabetic ulcers will be treated with Heberprot-Pro at Primary Health Care in Cuba
Submitted by: admin

04 / 27 / 2009
---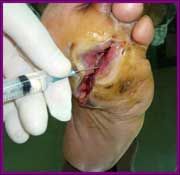 The Recombinant Epidermal Growth Promotor (Heberprot-P) has been applied to 67 patients suffering from diabetic foot ulcers at the "Lucia Iñiguez" Surgical Hospital in the Cuban province of Holguin and the municipalities of Gibara, Banes, Mayari and Moa, with positive results.

This new Cuban drug, already included in the basic list of medicines in the country, is expected to be used shortly in Primary Health Care, by a medical staff from the Alcides Pino and Mario Gutiérrez polyclinics, where they give specialized consultation for treatment with the Heberprot-P to outpatients.

Dr. Esther Maria Peña Guillen, specialist in Angiology, explained that the drug is an injectable formulation that is applied to the affected area three times a week.

It has been proven as an effective therapy that promotes progressive scarring of a high percentage of diabetic foot lesions resistant to all sorts of conventional treatment, reduces the number of amputations and surgery, as well as the emergence of serious complications (gangrene). This provides patients the functional recovery and the improvement of their quality of life.

Diabetes Mellitus is a serious health problem in the world, from which Cuba is not exempt. In Holguin, more than 2 percent of the population suffers from this disease, but it is estimated to be higher. Some 15 to 20 percent of patients with this disorder are prone to suffer from ulcers in the feet, which can lead to amputation.

Dr Peña explained that for six years at the "Lucia Iñiguez" Hospital, a work group has been operating a protocol to ensure the patient's care, which is ruled by the guidelines of good practice developed by the Department of Angiology and supported in the Community consultation and at the Center for Diabetes Care.

The HEBERPROT-P was developed at the Center for Genetic Engineering and Biotechnology in collaboration with the National Institute of Angiology and Vascular Surgery and other medical institutions of our country and has a worldwide patent.
Source: Ahora.cu
---
Related News
---