Attorney General Robert Kennedy tried to lift Cuba travel ban
Submitted by: admin

04 / 24 / 2009
---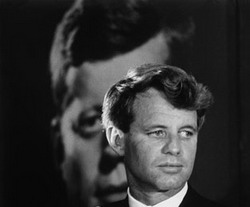 One month after president John F Kennedy was assassinated in 1963, his brother, attorney general Robert Kennedy, tried to convince the US government to lift its travel ban to Cuba, according to documents released Thursday by the National Security Archive.
Freedom to travel to Cuba, Kennedy wrote in a memo to then secretary of state Dean Rusk in December 1963, "is more consistent with our views as a free society and would contrast with such things as the Berlin Wall and Communist controls on such travel."
President Dwight Eisenhower broke diplomatic relations and imposed the travel ban on Cuba in January 1960, only days ahead of John F. Kennedy's inauguration as the 35th US president.
President Kennedy was subsequently assassinated on November 22, 1963 in Dallas, Texas.
"It is going to be extremely difficult, under the best of conditions, to prevent travel to Cuba and this problem is likely to be increasingly embarrassing to us," Robert Kennedy wrote in a memorandum.
He was alluding to several leftist US university student groups who at the time had announced their intention to violate the travel ban and visit Cuba.
"There would be less travel to Cuba if restrictions were removed than there will be if they are maintained," Kennedy said.
As a means of controlling travel by activists to Cuba, Kennedy suggested creating a special passport to be used only with Cuba. The idea was supported by some State Department officials, but was ultimately rejected.
The travel ban remained in effect until president Jimmy Carter refused to extend in 1977, but was reinstated under president Ronald Reagan in 1981.
President Barack Obama on April 13 lifted all travel restrictions for Cuban-Americans with relatives in Cuba.
The National Security Archives is a Washington-based non-governmental research group that collects and publishes declassified documents acquired through the Freedom of Information Act.
Source: Caribbean Net News
---
Related News
---