A dialog among U.S. and Cuba seemed a real possibility
Submitted by: admin

04 / 17 / 2009
---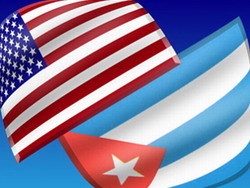 Talks toward a thaw in U.S.-Cuba relations seemed to be a real possibility after the new presidents of both countries reached out to each other with surprisingly straightforward language about their desire to revive a relationship frozen by 50 years of cold war.
Barack Obama said Thursday it was up to Havana to take the next step after his "good faith" gesture of removing some of the restrictions that lock Americans and their money out of Cuba.
Raul Castro responded within hours, saying "we have sent word to the U.S. government in private and in public that we are willing to discuss everything -- human rights, freedom of the press, political prisoners, everything."
"We could be talking about many other things," Castro replied from a summit in Venezuela. "We could be wrong, we admit it. We're human beings."
It was the most conciliatory language Castro or his brother Fidel have used with any U.S. administration since that of Dwight D. Eisenhower in early 1961, when the nations broke off relations. It appeared to be a transcendent development, the best opportunity for talks in a half-century.
Raul Castro has previously said he would be willing to discuss all issues with Obama. But Cuban officials have historically bristled at the suggestion that they might discuss human rights or political prisoners with the Americans, saying such matters are none of the Yankees' business.
Castro called on the U.S. to release five Cubans imprisoned on espionage convictions and offered to free a group of political prisoners in exchange.
"I'm confirming it here today: If they want the freedom of those political prisoners ... free our prisoners and we'll send them to you with their families."
Talking about these issues, of course, is no guarantee Havana is ready to offer the reciprocity Obama says the U.S. needs to see before making any more changes in its Cuba policies. Indeed, Obama said a relationship frozen for 50 years "won't thaw overnight.
---
Related News
---