Cuban families ready for reunification
Submitted by: admin

04 / 15 / 2009
---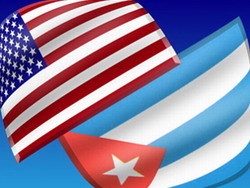 A handful of photos, some emails and brief phone conversations have for years given Cuban immigrants the only glimpse into the life of their relatives living in Cuba.
But, with the White House's new policy on Cuba, cuban american citizens will soon meet and embrace the relatives they hasn't seen for years.
"It is really difficult when you live here by yourself for years without contact with your daughter and family," a construction worker from Union City, N.J., the tristate area's most densely Cuban-populated neighborhood.
"All of my family members are there," he said. "I'm the only one here. I miss them terribly."
In Union City's Little Havana, and elsewhere across the region, Cuban-Americans Tuesday celebrated the White House's decision to permit unlimited visits and money transfers to relatives back home.
"No country should dictate where you can and can't travel to," declareda another inmingrant, of Union City. "I was tired of flying there and telling authorities I was coming from Mexico. Now, I don't have to lie about who I am anymore."
As part of a sweeping policy shift, the Obama administration will also allow American firms to provide satellite television and cell phone services in Cuba.
The White House announcement triggered a flood of phone calls to area travel agencies that specialize in facilitating trips to Cuba.
"We're swamped," said Bob Guild, program director at Marazul charters in Union City.
"Many people haven't been there in a long time. They're excited to go there," said Ofelia Gutierrez, manager of Costamar Travel, also in Union City.
---
Related News
---