Congress on Health and Quality of Life Ends in Eastern Cuba
Submitted by: admin

04 / 11 / 2009
---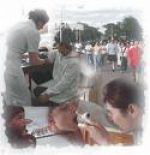 With practices linked with the increase of the people's quality of life will end today the third International Congress on Health and Quality of Life in the town of Mir, 40 kilometers southwest of Holguin city. Right up in Mir, more than 200 participants in the event held since last April 7th in Guardalavaca beach will witness in situ how deep the health programs have gone, which were designed with the aim of achieving a healthier and sounder life till people's parting.
In the agricultural community of Mir, in the municipality of Calixto Garcia in Holguin province, the participants in the event will target with its dwellers themes like the fight against smoking, alcoholism, sedentary life and obesity, among other harmful habits.
They will also deal with ways of protecting water, forest and food production, and for strengthening as well the local culture and other human manifestations.
Works on the community, the AIDS, food hygiene, feeding and nutrition, cancer, communication as a public right and culture for a full life were presented in the international Congress.
It was recognized that in spite of the advances in health diagnosing, therapies and surgeries, and the benefits brought by science, there is much to go yet in order to reach a better quality of life.
The exiting breach between the institutional efforts and the changes of lifestyles, the perception of dangers and one's personal responsibilities in reaching a higher quality of life are still tasks to go.
(Radio Angulo)
---
Related News
---