Afro Cuban All Stars in a 40-city tour in the United States
Submitted by: admin

03 / 22 / 2009
---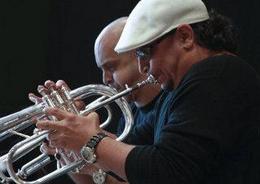 Yet the music of Cuba is a rich tapestry of sounds and rhythms that draw on its own "salsa" of native and African traditions—particularly rumba, son, and danzon. Under the leadership of Cuba's maestro of the famed Buena Vista Social Club, Juan de Marcos, the latest edition of the Afro Cuban All Stars launched a 40-city tour of the U.S. in late February, starting on the West Coast and traveling east.  
They land in Ohio with stops in Cincinatti (March 22) and Oxford (March 24)  before heading east to New Jersey, New York (Town Hall) and then swinging south to end the tour at Knight Concert Hall in Miami on April 11th. Despite the mere 90 miles separating Cuba from American shores, de Marcos needed to look far beyond Havana to assemble an orchestra free to tour in "the land of the free."
Now in his mid-50s, Juan de Marcos González grew up in Havana with music in his soul, the son of a singer who performed with the great Arsenio Rodriguez. While studying Russian and engineering (later earning his doctorate), de Marcos co-founded Sierra Maestra, a traditional Cuban septeto band that went on to record 14 albums and tour throughout Africa, Asia and Europe.
First touring the U.S. in 1994 with Sierra Maestra, de Marcos soon found himself directing another increasingly popular Cuban band, the Buena Vista Social Club. Drawing on 60 musicians from both bands and beyond, de Marcos assembled the first Afro Cuban All Stars, receiving a Grammy nomination for their 1996 recording, A toda Cuba le gusta. Adding several Cuban stars and American guitarist Ry Cooder, the famed Buena Vista Social Club recording was released in 1997, leading to a tidal wave of enthusiasm for Cuban music in the U.S. and abroad. Juan de Marcos now expanded the musical conception of the All Stars, incorporating a younger generation of Cuban artists alongside legendary performers and thus adding more contemporary styles to timeless traditions. Through the beginning of the 21st century, the All Stars gathered four Grammy nominations and were the subjects of several films and documentaries.
While the success of introducing American audiences to authentic Cuban music was gratifying, de Marcos was most pleased with the resurgence of interest among Cuban musicians.
"When you live in an isolated country you always think things are better elsewhere. Because of that, the influence of American music has been very strong. People were trying to play American music before they learned Cuban music.
We have to use what is good from around the world, but first we have to be conscious of the importance of our own music. A few years ago young Cuban musicians didn't care about real Cuban music. Now there are hundreds of bands playing traditional music. Of course music will change, there will be new dances and styles. But we are going to keep the roots. I am very confident about that."
Touring with the Afro Cuban All Stars came to a halt in 2003, following the post 9-11 security initiatives that prevented Cuba-based musicians from obtaining necessary visas. Yet de Marcos lets nothing interfere with his quest to promote Cuban music throughout the world. In 2002, he founded his own record label, DM Ahora! Records; with his wife, Gliceria Abreu, he founded GG and LL, a musical production company based in Mexico City that supports new Latin American music, particularly focusing on songwriters.
Now, Juan de Marcos, dubbed the "Quincy Jones of Cuba," has assembled yet another edition of the Afro Cuban All Stars, drawing on the talents of many musicians involved with his previous projects who are living outside of Cuba, who are able to qualify for visas to perform in the U.S., their Cuban roots now dispersed from Minneapolis and Vancouver to Madrid and Stockholm.
"This band will sound and even behave exactly like one coming straight from Havana," says de Marcos. "Cubans never change and if you've been in Miami, you'd know what I mean?dominos, mojitos, pork, chicharrónes, and all!"  With de Marcos their enthusiastic leader, the band members came together in Minneapolis for a week of rehearsals at the MacPhail Center for Music. Among the band:
Ignacio "Nachito" Herrera, pianist and former musical director of Tropicana Orchestra and Cubanismo. Herrera has lived in the Twin Cities for five years and teaches at MacPhail Center for Music as well as leading his Minnesota-based ensembles.
Calixto Oviedo, Stockholm-based drummer who performed with Adalberto Alvarez, NG La Banda, Pacho Alonso and more. As a youngster he performed with the great pianist Rubén Gonzalez and later played in Arturo Sandoval's band, James Brown and Sting. He's lived in Scandanavia since the late 90s, fronting his own band.
Yaure Muniz Rumayor was born in Havana in 1973, the son of a dancer and musican. He played his first gig as a child on plastic trumpet with Orchestra Cubana. He went on to play with the Tropicana Orchestra and salsa band Klimax; in the late 90s he was a member of the Afro Cuban All Stars, Cubanismo and Buena Vista Social Club, and recently relocated to Madrid.
Igort Rivas, a native of Cienfuegos, Cuba, has played trumpet since age 8, and at 35 is a veteran of international touring, including with the Buena Vista Social Club. For the past decade he has lived in Curacao where he runs his own Eros Records.
Miguel Valdes is also an alum of the Buena Vista Social Club trumpet section, currently living in Vancouver, BC.
Alberto "Molote" Martinez, based in Amsterdam, was born in Havana in 1961. He was trombonist with the original Buena Vista Social Club as well as Elio Reve's Orchestra and the Cuban Symphonic Orchestra. He appears on several Afro Cuban All Stars recordings.Image
These are but six members of the 2009 edition of the Afro Cuban All Stars. "It's not just these six players; they are all important!" declares de Marcos. "We have to use all the heritage of Cuban music to create a sound of the future. It's important to have that continuity and to fight for the identity of Cuban music."
(www.jazzpolice.com)  
---
Related News
---