A book about Cuban with Chinese origins has been launched in Beijing.
Submitted by: admin

03 / 19 / 2009
---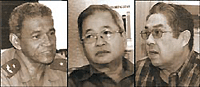 The edition Our History is still writing – it was previously published in English and Spanish – and tells the store of Armando Choy, Gustavo Chui and Moisés Sío Wong, three high rank Cuban officials, indicates Prensa Latina news agency.
Li Xiaolin, vice-president of the Friendship Association of the People of China with Foreign Countries (AAPCE), in which quarters was held the launch of the book, remembered that one of the first countries that received Chinese immigrants was Cuba in the XIX century, many of those Chinese people took part in the anti colonial wars.
The book gives a testimony of the incorporation to the war against Dictator Fulgencio Batista of the generals Choy, Chui and Sío Wong, following the example given by their predecessors and how then they stayed in the defence of the Cuban sovereignty against the USA.
This edition is translated by Wang Lusha and Wang Ping and has 284 pages, illustrated with engravings and historic photos. It is the result of collaboration between the AAPCE, the International Centre of Chinese Culture and Art and the Cuban Embassy in China.
The Cuban ambassador in China, Carlos Miguel Pereira, highlighted the combat history of the Chinese people in the Cuban independence war with the phrase said by Gonzalo de Quesada "there has never been a Cuban Chinese who became a deserter or a traitor".
(Cubarte)
---
Related News
---