Cuban Foreign Minister: Bonds with European Union Positive
Submitted by: admin

03 / 19 / 2009
---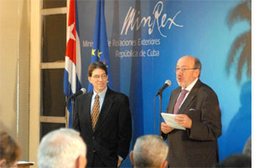 At a press conference in this capital attended by 37 media outlets from 17 countries, the Cuban FM said he had received Louis Michel, European commissioner for humanitarian aid, with great pleasure on his third visit to Havana, and said Michel is an earnest and responsible person.
Rodriguez stressed that the official talks were useful and that advances have been made in the bilateral relations, while adding that there is mutual respect and non-interference in their internal affairs. He thanked Michel for the cooperation given after the passing of the 2008 hurricanes, a contribution that besides helping palliate the damages, will be used in other joint projects.
The Cuban official announced that based on the results of the cooperation and bilateral exchanges, both parties agreed to hold new talks at diplomatic levels next March in Brussels.
Rodriguez said that Cuba is willing to have exchanges with the EU members, if they ask, as long as they maintain the principles of mutual respect and cooperation.
He added that there is potential for joint cooperation between Europe and Latin America and the Caribbean, African and Asian countries, and referred to Cuba's contribution over the last few years with Operation Miracle, a ophthalmologic rehabilitation program, and the "Yes, I can" teaching method to fight illiteracy.
Both parties agreed to maintain, even through the international economic crisis, the relations between Cuba and the EU, which also cover issues such as climate change, the development of agriculture and educational programs, amongst others.
Louis Michel thanked the FM for the warm welcome and ratified that the talks were held in a pleasant and positive atmosphere. He also said that the relations can be taken further, and that the bilateral exchanges are showing tangible results.
"I am sure that Cuba can develop all its potentials" concluded Michel.
(ACN)
---
Related News
---