Palacio de Valle, monument of Cienfuegos, Cuba
Submitted by: admin

03 / 14 / 2009
---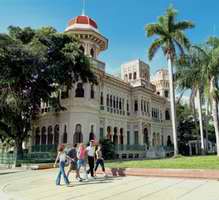 When Acisclo Valle began to build its mansion in 1913, he could hardly imagine that the facility would eventually become a symbol of the Pearl of the South. The palace is located in the area of La Punta, National Monument of Cultural Heritage.  
The terrain is located in Punta Gorda neighborhood and was a wedding gift from Amparo Suero's father, when she married Acisclo, a wealthy businessman. Rumor has it that the couple was on a trip to Spain when they decided to build a unique chalet.  
They established their residence there and the works ended in 1917, when they enlarged the existing "Quinta Morisca" (Moorish Villa). The designs were made by an architect from Cienfuegos and executed under the supervision of Italian civil engineer Alfredo Colli Fanconetti.  
Curiosity? They erected the eclectic building at a cost of a million and half pesos. French, Arabic, Italian and Cuban artisans worked with marble, alabaster, brass, glass and ceramic imported from Spain, Italy and United States. Acisclo only enjoyed the Palace for 3 years. He died in 1920 and bequeathed the state to his wife and 7 children.       
A glance at the central plant is quite amazing. It is flanked by 2 animal sphinxes from Egyptian tales, with head and breast of a woman and body and paws of a lion that personify the sun. However, some people assure that this was not supposed to be the main entrance. Yet, its proximity to the marble stairway that leads to the second floor made it so.  
The entrance is primitive Gothic style and leads to a dining room of Mudejar influence, which imitates the famous Patio of the Lions, of Alhambra, in Granada. Then comes the music and games room, of Luis XV style, and the foyer of Imperial style, with golden friezes, rosy marble baseboards, brass applications and white marble floor. The second floor has 8 bedrooms, plus living and study rooms.  
The owner's initials are crisscrossed into an artistic monogram in the ceramic floor. Some indoor and outdoor columns remind of the Cordoba Mosque, in Spain  
The building ends in 3 towers: Gothic Roman, Indian and a mignonette of Arab style, plus an arbor on the roof  
Vases of Italian and Chinese porcelain are scattered all over the palace. They evidence the opulence of bourgeois times in Cuba and a kind of construction that imitates foreign styles. They show us how Acisclo del Valle let his money and imagination drift freely.  
It was abandoned in 1922, when the owner and her children traveled to Spain. Then, it became the Hunters' Club for some time. The Revolution triumphed and opened an Art School there. Today, tourists admire it. It hosts a restaurant attached to Jagua Hotel and a diner, very appropriate for lovers of art and Cuban cuisine.
(PL)  
---
Related News
---