70 years of maestro Leo Brouwer, teacher of many generations of Cuban and foreign musicians.
Submitted by: admin

03 / 05 / 2009
---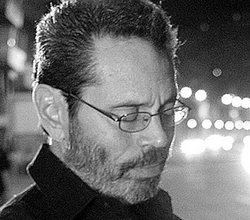 Last 1st of March the Cuban culture, and specially the music celebrated the 70 birth date of th maestro Leo Brower. This universal man from Havana was born in a family crammed with sounds, since he is the grandson of Ernestina and of Ernesto Lecuona, whose talent he used to cultivate with several professors along his studies. Among them it is worth mentioning Isaac Nicola.
Specially we must highlight his links with our cinema, his presence in charge of the mystical Grupo de Experimentacion Sonora del ICAIC, where he worked with important figures with the caliber of Silvio Rodríguez, Pablo Milanés, Noel Nicola, Emiliano Salvador, Leonardo Acosta, Sara González, Eduardo Ramos and Sergio Vitier, among many others, as well as with his own creations for the seventh art.
Many directors, among them Julio García Espinosa, Oscar Valdés, Sergio Giral, Enrique Pineda Barnet, Manuel Octavio Gómez, Humberto Solás and specially Tomás Gutiérrez Alea, Titón, had his collaboration. Specially Titon as it can be seeing the music composed by him for the third episode (La batalla de Santa Clara) of the first movie made by the ICAIC, Historias de la Revolucion, made by Titon.
Leo continued working for many years with Titon in a couple that created from the dramatic conception of the movie, the spirituality of its music, as it can be seen in classic movies made by Gutierres Alea, such as Memorias del Subdesarrollo, La última cena and Los sobrevivientes, among many others. Likewise it is worth mentioning the dramatic contribution of his musical speech in great movies made by Humberto Solas, such as Lucia and Cecilia.
(Cubarte)
---
Related News
---