Great expectations in Spain await the premiere of Che: Guerrilla
Submitted by: admin

03 / 05 / 2009
---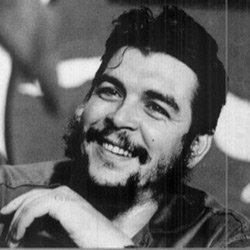 The movie is a synthetic narration of the guerrilla exploits of Ernesto Che Guevara in Bolivia in 1967, where he was murdered after he was captured by the army from than country and advisors from the Central Intelligence Agency from the United States.
The story begins with Che, who had already changed his identity into Ramón during his last few days in Cuba and his arrival to the South America country in order to form a guerrilla force made up by Cubans and Bolivians.
The movie reflects briefly different moments of the development of the exploit, with the person of Guevara in the centre of the entire plot, which was filmed mostly in Spanish locations (Madrid, Castile-La Mancha, Huelva and Cadiz).
The Puerto Rican actor Benicio del Toro, who shares an extraordinary physical resemblance to the legendary guerrilla leader, gave out an interpretation that was praised by the specialized critic.
His work in the first part of the story (Che the Argentinean) won him a Goya award to the best actor, handed in to him at the start of this month by the Spanish Academy of Arts and Movie Sciences, apart from the award he won in the same category in the most recent Cannes festival.
This same movie also won the Goya award for best artistic direction, which went to Antxón Gómez. The movie was also nominated for best script, best soundtrack and best production direction.
Che: guerrilla also casts the Mexican Demián Bichir, the Brazilian Rodrigo Santoro, the Spaniards Carlos Bardem, Oscar Jaenada, Jordi Mollá and Eduard Fernández and the Cubans Vladimir Cruz and Jorge Perugorría, among others.
(Cubarte)
---
Related News
---