Fernando Pérez: "The Young Filmmakers' Festival Was an Open Space to Glance at Cuban Cinema"
Submitted by: admin

03 / 04 / 2009
---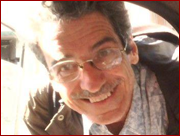 The pieces addressed controversial issues and the current phenomena present in Cuban society. A social glance in the screened and awarded movies. The young public packed Chaplin movie theater, where the films were shown. Migration was among the most highlighted issues.
"The [Young Filmmakers'] Festival has been the yardstick, the open and diverse space to glance at this unsettling phenomenon of cinema in Cuba by young filmmakers," said to Cubanow outstanding Cuban filmmaker Fernando Pérez, President of the event that screened 71 audiovisual materials.
Pérez, director of Suite Habana, one of the most controversial movies of Cuban cinema, said that "what sets this edition apart from the previous ones is the movie-going public, which is the same but on the rise."
And he further added: "I was thrilled to see the opening ceremony in Chaplin movie theater [in Havana], filled to capacity with a public that was coming to see solid and true cinema."
Around 71 pieces, 35 documentaries, 21 fiction materials and 15 animated stories, made by Cuban filmmakers under 35 years of age, constituted the official selection of this edition.
AWARDS OF THE EIGHTH YOUNG CUBAN FILMMAKERS' FESTIVAL:
LA MIRADA DEL OTRO [The Other's Look]
Citation for Sound to Rubén Valdés, for documentary LA CHIROLA
Award for Best Photography to Andrés Boero, for documentary LA CHIROLA
ORIGINAL SCORE:
Citation to Orielvis Padrón, for the musical works included in Animated pieces
Citation to Yanier Hechavarría, for the music of documentary RARA AVIS: EL CASO MAÑACH [The Mañach Affair]
Best Original Score to Elvira Peña, for short film ODA A LA PIÑA [Ode to the Pineapple]
ANIMATION:
Citation to Alien Ma, for TIC TAC
Animation Award to Orielvis Padrón, for SER [To Be]
FICTION:
Citation to Yamil Santana for Best Photography and to David Vega and Adrián Replanski for Sound in documentary DECATHEXIS
Best Fiction Award to Pedro Luis Rodríguez, for medium-length film LA BALA [The Bullet]
DOCUMENTARY
Citation to Denise Guerra for Best Photography, for documentary UNA NIÑA, UNA ESCUELA [A Girl, a School]
Joint Citation to medium-length films RARA AVIS: EL CASO MAÑACH, by Rolando Rosabal, and TODO TIEMPO PASADO FUE MEJOR [Every Past Time Was Better], by Zoe García
Special Panel of Experts' Award to Full-Feature Films
FUERA DE LIGA [Out of this World], by Ian Padrón
Documentary Award for Short-Feature Films
THE ILLUSION, by Susana Barriga
Secondary Awards
Las cámaras de la diversidad [UNESCO-sponsored diversity cameras]
CLOSE UP, by Damián Saínz and Roger Herrera
Grupo de Reflexión y Solidaridad Oscar Arnulfo Romero [Oscar Arnulfo Romero Reflection and Solidarity Group]
VACÍOS [Voids], by Daviel Lizano
¿GRANDES LIGAS? [Major Leagues?], by Ernesto Pérez
Premio documental memoria joven 2009 Centro Pablo [2009 Centro Pablo Young Memory Documentary Award]
RARA AVIS: EL CASO MAÑACH, by Rolando Rosabal Perea
Premio SIGNIS of Cuba [Cuba SIGNIS Award]
EL FUTURO ES HOY [The Future is Today], by Sandra Gómez
COCUYOS [Glowworms], by Tamara Segura
Asociación Hermanos Saíz
TWIST, by Márgel Sánchez and Irán Hernández
Premio Caminos del Centro Memorial Dr. Martin Luther King, Jr. [Dr. Martin Luther King, Jr. Memorial Center Caminos Award]
COCUYOS [Glowworms], by Tamara Segura
TACONES CERCANOS [Close Heels], by Jessica Rodríguez
Facultad de Arte de los Medios de Comunicación Audiovisual del ISA [School of Art of Audiovisual Mass Media, of the Higher Institute of Art]
THE ILLUSION, by Susana Barriga
Asociación Cubana de la Prensa Cinematográfica [Cuban Association of Cinema Press]
THE ILLUSION, by Susana Barriga
RARA AVIS: EL CASO MAÑACH, by Rolando Rosabal Perea
Escuela Internacional de Cine y televisión de San Antonio de los Baños, EICTV [San Antonio de los Baños International Cinema and Television School, EICTV]
ALINA, 6 AÑOS [Alina, Six Years Old], by Milena Almira
TACONES CERCANOS [Close Heels], by Jessica Rodríguez
Fundación Ludwig de Cuba [Cuba's Ludwig Foundation]
DELFÍN PRATS: ENTRE EL ESPLENDOR Y EL CAOS [Delfín Prats: Between Splendor and Chaos], by Carlos Y. Rodríguez
LOS QUE FALTARON [Those Who Were Absent], by Erik Mendilahaxon
PUBERTAD. CAPITULO 6: EL SUEÑO DE DANIEL [Puberty, Chapter 6: Daniel's Dream], by Ernesto Piña
Fundación Antonio Núñez Jiménez [Antonio Núñez Jiménez Foundation]
ESPERANDO ENTODAVÍA [Still Waiting], by Adriana F. Castellanos
Nuevos Diseñadores [New Designers] Poster Award
Outstanding Movies
COMUNIDADES MODERNAS [Modern Communities], by Yadira Hierro
CONVERSEMOS [Let's Talk], by Frank Baltodano
EL DESEO [The Desire], by Fabiana
LEJOS DENTRO DE MÍ [Far Within Me], by Yes
EL BOSQUE DE SHERWOOD [Sherwood Forest], by Fidel Alejandro
Citations
CONVERSEMOS [Let's Talk], by Haydé
POR AMOR AL ARTE [For the Sake of it], by Marla Albo
Award
MALOS EN UNA CIUDAD MALA [Bad Guys in a Bad City], by Pablo Monterrey  
(www.cubanow.net)
---
Related News
---